Watermelon ice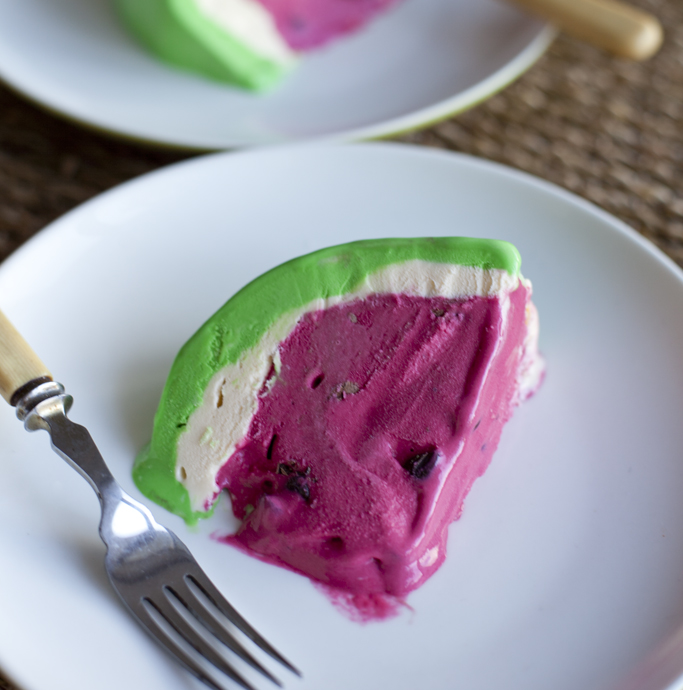 This will impress the kids and the big kids! Great colour and flavour, satisfaction on every level!
Ingredients
300g frozen raspberries
80g caster sugar
2 Tbsp water
1½L vanilla ice cream
1 tsp mint essence
green and red food colouring*
½ cup mini choc chips
Instructions
1 Combine the raspberries, sugar and water in a small saucepan and cook gently for 20 minutes, until well-softened. Press through a fine sieve to remove seeds, then set aside to cool completely.
2 Soften ¼ of the ice cream in a bowl, then beat in the mint essence and green food colouring to achieve a bright green tone. Press into a pre-chilled 1½L bowl to form a crust, press into place with a smaller bowl**, and freeze until firm.
3 Soften 2 cups vanilla ice cream and press onto the green ice cream to form a thin layer, holding in place with a smaller bowl. Freeze until very firm.
4 Mix the remaining ice cream, raspberry sauce and enough red food colouring to achieve a bright tone, the mix in the choc chips and spoon into the centre. Freeze until very firm, then slice to serve.
*Gel food dyes (available from cake decorators and good food suppliers are better in ice cream as they are fat soluble)
** To achieve good shape you need concentric bowls – same shape, different sizes.