Very cherry fruit mince tartlets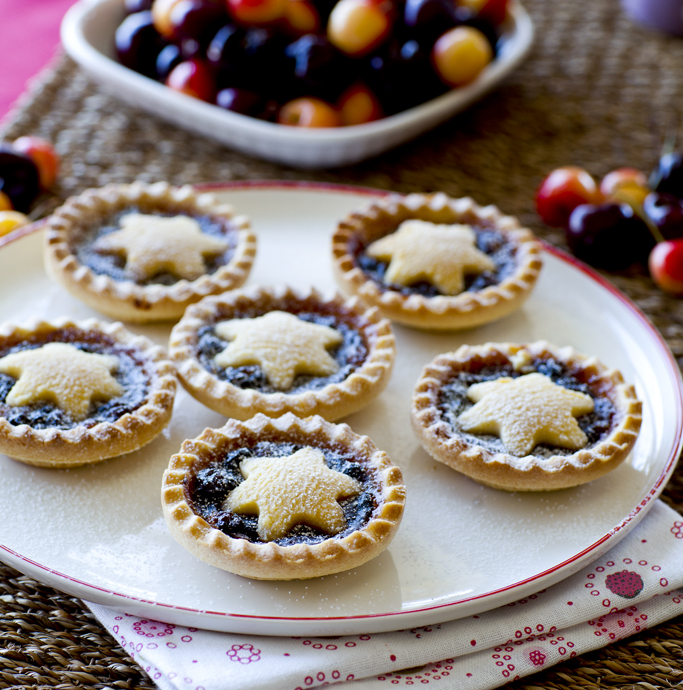 Festively delicious! These little tartlets are perfect for all your pre-Christmas parties. Taste the flavours of the season with mixed peel, spices and cherry brandy wrapped in pastry and with a star on top!
Ingredients
180g unsalted butter, finely diced
240g plain flour
½ tsp fine salt
60ml iced water
1 cup cherries, pitted and chopped
½ cup currants
¼ cup prunes, chopped
¼ cup Craisins, chopped
¼ cup mixed peel
3 tsp mixed spice
2 Tbsp unsalted butter
120g dark brown sugar
¼ cup cherry brandy
finely-grated zest and juice of 1 orange
2 Tbsp milk
icing sugar, to serve
Instructions
1 Preheat oven to 180°C. Place the butter in the freezer for 10 minutes, then combine in the bowl of a food processor with the flour and salt. Pulse until the mixture resembles wet sand. There should still be flecks of butter visible.
2 Add the iced water and pulse several more times. Turn out onto the bench and knead lightly until the dough is almost smooth. Flatten into a large disc and refrigerate for at least 1 hour before using.
3 Combine the cherries, dried fruits, nuts, peel and spice in a large bowl. Put the butter, sugar, cherry brandy, juice and zest in a saucepan and bring to a boil over a high heat. Pour over the fruit mixture cover with cling film and set aide for 1 hour, until cooled.
4 Roll out the pastry to 3mm thick and cut out 24 7cm discs. Press into 24 mini muffin moulds and fill with the fruit mixture. Cut out the remaining pastry as stars and place on top. Brush with milk and bake for 20 minutes, until golden. Dust with icing sugar to serve.