Treacly ghost cupcakes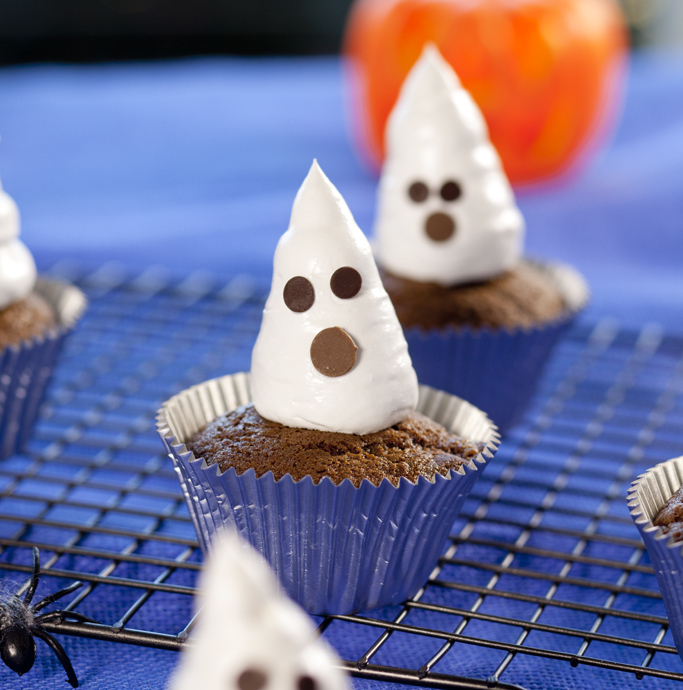 Get yourself into the Halloween mood with a piece of cupcake magic. The earthy hint of treacle transforms a simple cupcake. Add some ghostly decorations and you've got a treat to treasure. Treacle adds deep flavour, and also makes the cupcakes more moist and longer-lasting.
Ingredients
100g softened unsalted butter
265g caster sugar
⅓ cup treacle
1 egg
1 egg yolk
1 tsp natural vanilla extract
200g self-raising flour
2 Tbsp cocoa powder
¼ cup milk
3 egg whites
½ tsp cream of tartar
small and medium choc chips, to garnish
Instructions
1 Preheat oven to 180°C. Combine the butter and 115g caster sugar in the bowl of an electric mixer and beat with the paddle attachment on high speed for 3 minutes, until light.
2 Beat in the treacle, egg, yolk and vanilla, then sift in the flour and cocoa and fold to combine, adding the milk in several batches. Spoon into 12 lined ½ cup muffin moulds and bake for 18-22 minutes, until firm to touch. Set aside to cool on a wire rack.
3 Place the egg whites and cream to tartar in the bowl of an electric mixer and beat with the whisk attachment on medium speed for 3 minutes, until foamy. Cook the remaining sugar and glucose syrup in a small saucepan over a high heat until 119°C. Pour into the egg whites while beating one medium speed and beat until cool.
4 Pipe the meringue in tall cones onto the cupcakes, then arrange the choc chips to form eyes and an open mouth.