Toltot kaposzta (hungarian cabbage rolls)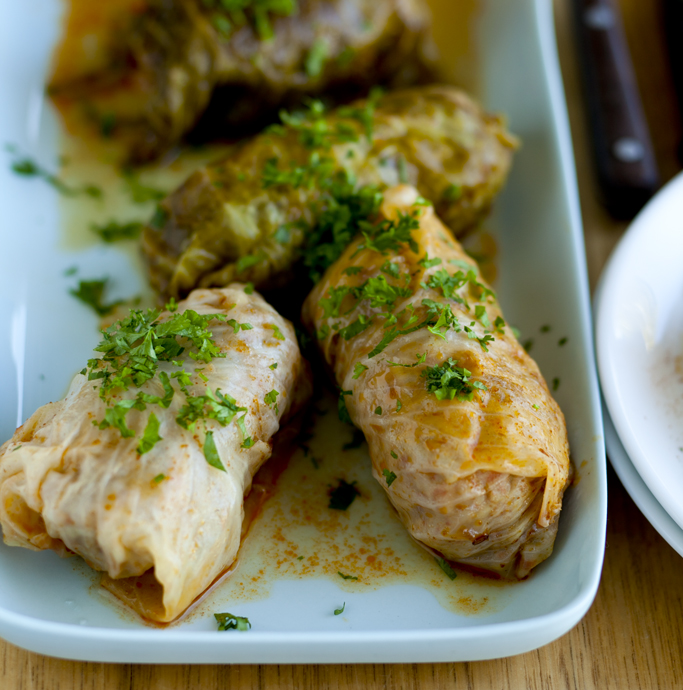 These little cabbage rolls are full of flavour and spiced with Hungarian paprika.
Ingredients
1 head small green cabbage
1 cup long-grain rice
1 brown onion, finely diced
4 cloves garlic, chopped
2 Tbsp unsalted butter
600g beef mince
3 Tbsp sweet Hungarian paprika
3 tsp hot Hungarian paprika
salt flakes and freshly-milled black pepper
2 Tbsp plain flour
2 tsp caraway seeds
1L chicken stock
250g smoked bacon bones
sour cream and chopped parsley to serve
Instructions
1 Bring a large saucepan of salted water to a boil. Use a small sharp knife to remove the cabbage core, then cook the cabbage for 15 minutes. Remove from the water, then gently separate the large leaves. Slice away the thick central rib from each leaf.
2 Cook the rice in a saucepan over boiling water until al dente, then drain and set aside to cool. Sauté the onion and garlic in half the butter in a frying pan over a moderate heat for 5 minutes, until softened, then set aside to cool. Mix with the rice, beef mince, half the sweet paprika and all the hot paprika. Season with salt and pepper and form into 5cm logs each 1½cm thick. Wrap each with a cabbage leaf.
3 Cook the remaining butter with the flour and caraway seeds until thickened, then whisk in the chicken stock and bacon bones. Simmer until smooth, season with salt and pepper, then arrange the cabbage rolls in the liquid. Cook very gently over a low heat for 1 hour, topping up with water as required. Serve warm with sour cream and chopped parsley.