The perfect pizza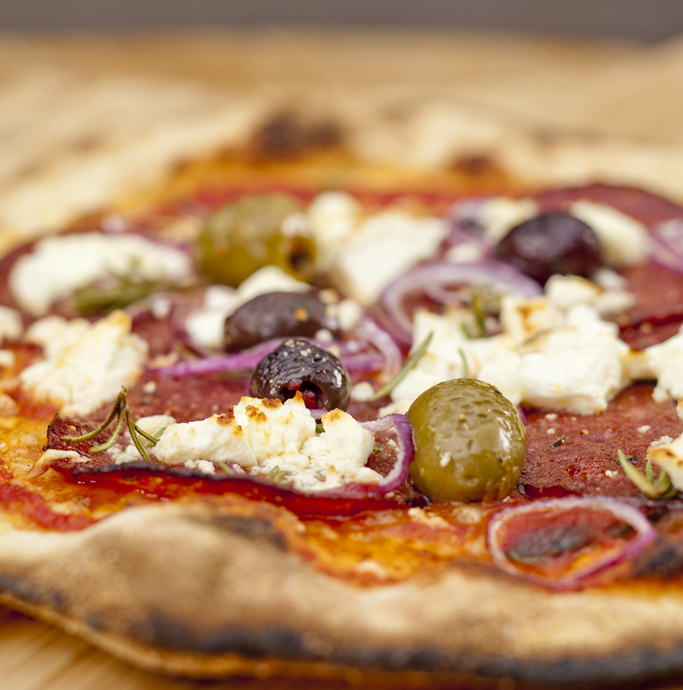 The secret to a great pizza dough is to make it in two stages. First a very wet mixture called a sponge (which must be allowed to collapse naturally) before adding the remaining flour. The result? The lightest and crisp pizza you've ever tried. As for the sauce, this is a multipurpose recipe that works just as well on pasta or as a condiment for meats and poultry. We'll be baking ours in a wood-fired pizza oven for our AFL final episode, but the recipe is written for a pizza stone in a domestic oven so that readers can do it too.
Ingredients
400g baker's flour
250ml water
1 sachet (7g) dried yeast
2 Tbsp caster sugar
1½ tsp fine salt
¼ cup extra virgin olive oil
2 x 400g cans whole peeled tomatoes
¼ bunch basil leaves
1 Tbsp tomato paste
2 tsp red wine vinegar
salt flakes and freshly-milled black pepper
cold meats, vegetables, herbs and cheeses, to serve
Instructions
1 Preheat oven to 230°C. Combine half the flour with the water, yeast and 2 tsp sugar in the bowl of an electric mixer and beat on medium speed with the dough hook for 7 minutes, until coming away from the edges. Cover with cling film and set aside for 2 hours, until the dough has tripled in size, and then collapsed.
2 Add the remaining flour, salt and 1 Tbsp extra virgin olive oil to the dough and mix with the paddle attachment on low speed for 3 minutes, until well-combined. Turn out onto a lightly-floured bench and knead by hand for 5 minutes, until very smooth. Place in an oiled bowl and set aside for 45 minutes, until doubled in size.
3 Meanwhile, drain the tomatoes (discarding the liquid), then press the fruits through a coarse sieve to remove the seeds. Combine the pulp in a medium saucepan with the basil leave, tomato paste, remaining olive oil and sugar. Set over a moderate heat and simmer of 10 minutes, until thickened, then add the vinegar and season with salt and pepper. Set aside to cool slightly.
4 Divide the dough into four pieces and roll each out to size. Top with sauce, then a selection of meats, vegetables, herbs and cheeses and bake on a preheated pizza stone for 4 minutes, until crisp.