The food clock - roast lamb leg with apricot and mint stuffing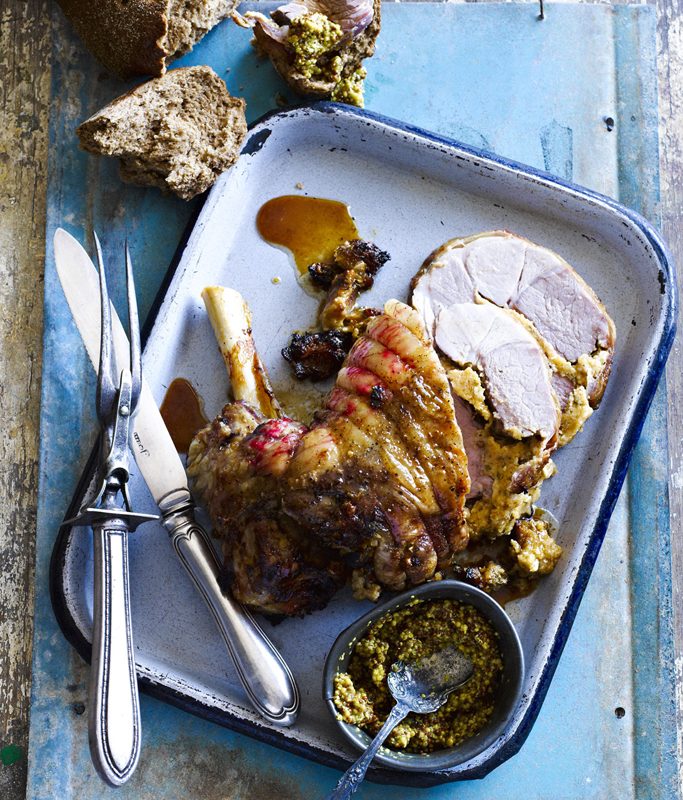 My new book, The Food Clock, has just been released and to celebrate I thought I'd share a recipe from the book with you. Take a look at my Facebook page for details on how to enter our competition to win a signed copy of The Food Clock.
Ingredients
12 apricots
60ml (¼ cup) gin
½ teaspoon freshly grated nutmeg
2 tablespoons raw sugar
1 tablespoon cider vinegar
2 slices of day-old sourdough bread, torn
2 tablespoons sunflower seeds
1 bunch of mint, leaves finely chopped
1 easy-carve lamb leg (approximately 1.4kg)
sea salt and freshly ground black pepper
2 tablespoons extra virgin olive oil
mustard and crusty bread, to serve
Instructions
1 Preheat the oven to 190°C.
2 Split the apricots in half, remove and discard the stones, then combine in a small saucepan with the gin, nutmeg, sugar and vinegar. Simmer gently for 20 minutes until softened and starting to thicken.
3 Transfer to the bowl of a food processor, add the bread and pulse until coarse. Set aside to cool, then fold in the sunflower seeds and mint.
4 Season the lamb inside and out with salt and pepper, then press the apricot mixture into the cavity and secure with lengths of butcher's twine. Rub with olive oil, then bake for 40 minutes until medium. Set aside to rest for 10 minutes, then carve and serve with the mustard and crusty bread.