Thai beef salad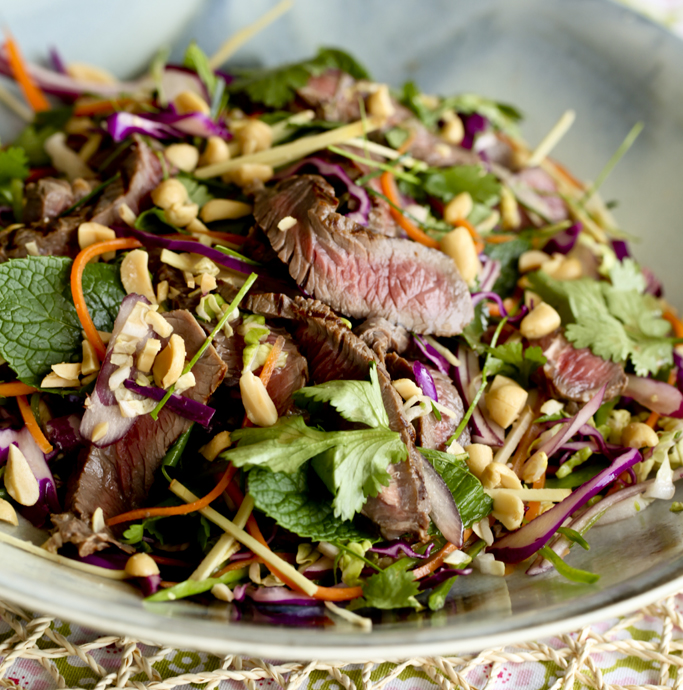 Marinated beef and loads of fresh veggies and herbs, you can't do better than that!
Ingredients
600g beef rump steak
¼ cup fish sauce
¼ cup soy sauce
2 tsp sesame oil
1 cup red cabbage, shredded
1 cup wombok, shredded
1 red onion, shaved
1 carrot, cut into fine batons
6 green shallots, finely sliced
½ bunch coriander leaves
½ bunch mint leaves
½ cup peanuts, chopped
juice of 1 lime
1 Tbsp sweet chilli sauce
1 red chilli, finely chopped
2 lime leaves, finely sliced
Instructions
1 Combine the beef, ¾ of the fish sauce, half the soy sauce and 1 tsp sesame oil in a bowl. Mix well, then cover with cling film and refrigerate overnight to marinate.
2 Drain the beef, then cook on a hot ribbed grill for 4 minutes each side until medium.
3 Put the cabbage, wombok, onion, carrot, shallots, herbs and peanuts in a large bowl and toss to combine. Mix the lime juice with the remaining fish sauce, soy sauce, sesame oil and sweet chilli sauce. Add to the salad with the carved beef, then garnish with chilli and lime leaf.