Tagine of goat, potato and preserved lemon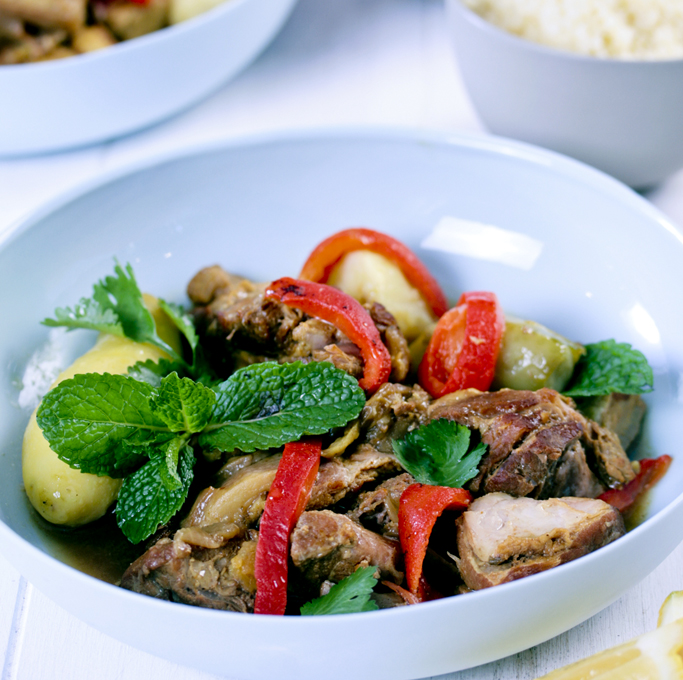 The flavour of goat is not dissimilar to lamb, with strong earthy tones and a rich lingering taste. However goat meat is leaner than lamb, and slightly gamier.
Ingredients
1kg goat leg, diced
1 Tbsp plain flour
2 Tbsp tagine spice blend
¼ cup ghee
1 red onion, peeled and cut in wedges
12 cloves garlic
250g small kipfler potatoes, scrubbed
1 preserved lemon, rind only, cut in fine strips
¼ cup roasted capsicum, cut in strips
1L chicken stock
salt and pepper
coriander leaves, mint leaves and lemon wedges, to serve
Instructions
1 Preheat oven to 140°C. Dust the goat in flour and spices. Pour the ghee into a large frying pan and set over a high heat. Fry the meat for 4 minutes, until well-browned, then place in a tagine or lidded casserole dish.
2 Add the onions, garlic cloves, potatoes, preserved lemon, capsicum and stock to the tagine, season lightly with salt and pepper, and fit the lid. Bake for 3 hours.
3 Adjust the seasoning and garnish with herb leaves and lemon wedges.