Sweet potato crab cakes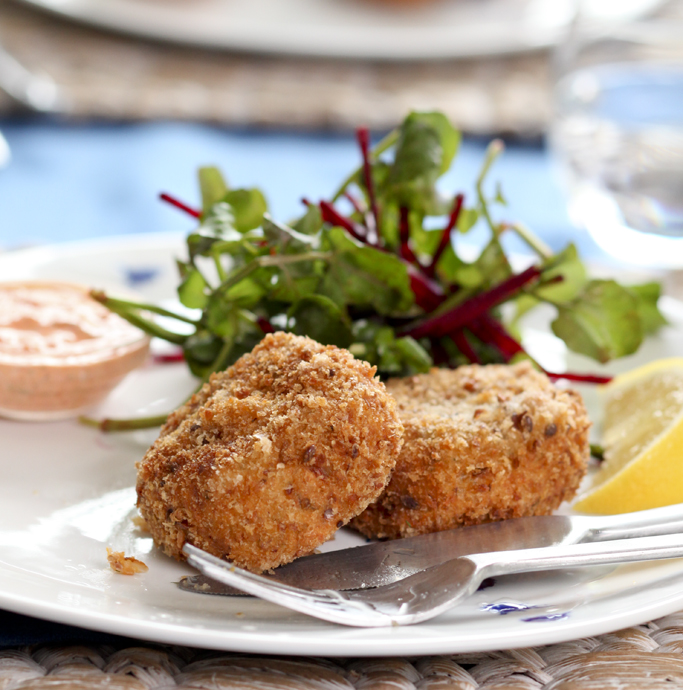 These are a great little pre-dinner snack. Light but tasty, they won't get in the way of your masterpiece.
Ingredients
500g sweet potato peeled and diced
1 Tbsp extra virgin olive oil
200g crab meat
1 Tbsp fish sauce
2 cloves garlic, minced
½ bunch dill, finely chopped
1 ½ cups wholegrain breadcrumbs
salt flakes and freshly-milled black pepper
¼ cup plain flour
2 eggs, beaten
vegetable oil, for deep-frying
½ cup roasted capsicums
2 tsp capers
¼ cup mayonnaise
1 watercress sprigs
1 small beetroot, peeled and cut into fine batons
Instructions
1 Steam the diced sweet potato over a saucepan of simmering water for 10 minutes, until tender, then crush with a fork. Mix with the olive oil, crab meat, fish sauce, garlic, dill and ½ cup breadcrumbs, then season with salt and pepper and form into four puck shapes. Refrigerate until firm.
2 Dust the crab cakes with flour, dip in beaten egg, then coat with the remaining breadcrumbs. Fry in hot (180°C) vegetable oil for 5 minutes until deep-golden, then drain on kitchen paper.
3 Meanwhile, combine the capsicums, capers and mayonnaise in a blender and purée until smooth. Spoon onto plates, then top with a crab cake and a mixture of watercress and beetroot.