Sumac-crusted Double Lamb Cutlets with Caponata and Salmoriglio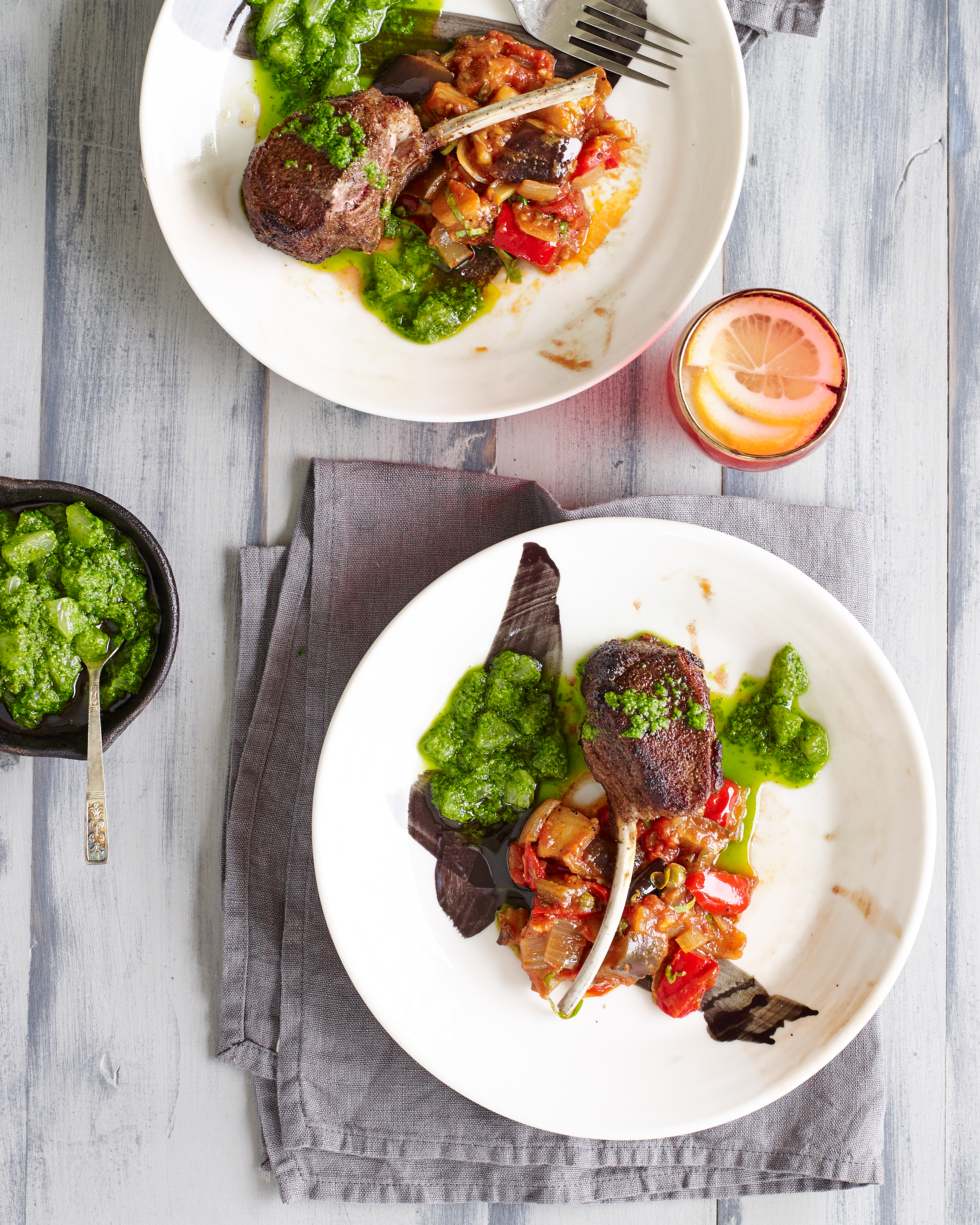 Lightly spiced double lamb cutlets will impress at your next dinner party.
Ingredients
2 tsp ground sumac
1 tsp ground cumin
Pinch chilli powder
4 x double lamb cutlets, French trimmed
1 large eggplant, diced
1 cup extra virgin olive oil
1 brown onion, diced
1 red capsicum, diced
2 sticks celery, diced
1 Tbsp baby capers, chopped
8 cloves garlic, chopped
400g can diced tomatoes
2 tsp red wine vinegar
1 tsp brown sugar
Sea salt flakes and freshly-milled black pepper
1 bunch basil leaves, sliced
1 bunch oregano leaves, chopped
1 bunch parsley leaves, chopped
4 lemons, segmented and diced
Instructions
1 Preheat oven to 210°C. Combine the sumac, cumin and chilli, then rub onto the lamb. Set aside for 20 minutes.
2 Fry the eggplant in 2 Tbsp olive oil for 5 minutes, until lightly browned, then drain on kitchen paper. Sauté the onion, capsicum, celery, capers and half the garlic in 1 Tbsp olive oil in a medium saucepan set over a moderate heat for 5 minutes, until just softened. Add the tomatoes, vinegar and sugar, then simmer for 15 minutes. Season with salt and pepper, then stir in the eggplant and basil.
3 Season the lamb cutlets with salt then fry in 1 Tbsp olive oil in pan over a high heat until browned. Transfer to an oven dish and bake for 10 minutes, until medium.
4 Mix the oregano parsley, lemon segments and remaining olive oil in a bowl then season generously with salt and pepper. Serve the lamb on caponata topped with the oregano sauce.
To French trim the lamb cutlets, use a small sharp knife to remove the meat from around the bone, scraping upwards until clean. For best result, also remove one of the bones as a single bone is always more presentable.