Sri Lankan Eggplant Curry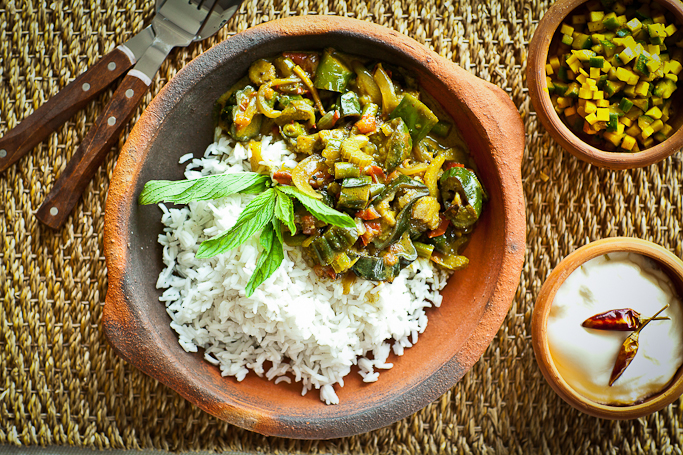 This cold snap needs attention, and a rich hearty curry is just the answer. If you want that comfort food, but healthy, then this rich and spicy Sri Lankan vegetarian meal is perfect.
Ingredients
1 large eggplant, diced
1 Tbsp fine salt
½ cup vegetable oil
2 cinnamon sticks, crumbled
4 cardamom pods, crushed
6 cloves
2 brown onions, sliced
2 sticks celery, sliced
8 cloves garlic, minced
1 Tbsp ground turmeric
500ml chicken stock
250ml coconut cream
salt flakes and freshly-milled black pepper
2 Tbsp lime juice
rice, mint, pickle and yoghurt, to serve
Instructions
1 Toss the eggplant in fine salt, and place in a colander. Stand for 45 minutes then rinse and pat dry. Fry in batches in half the oil in a saucepan over a high heat. Set aside.
2 Fry the spices in the remaining oil for 2 minutes, until aromatic, then add the onions, celery and garlic and cook for 5 minutes, until softened. Mix in the turmeric, cook briefly, then pour in the stock and coconut cream.
3 Once simmering, add the eggplant and cook for 10 minutes. Season with salt and pepper, then add the lime juice and serve with rice, mint, pickle and yoghurt.