Spring colour salad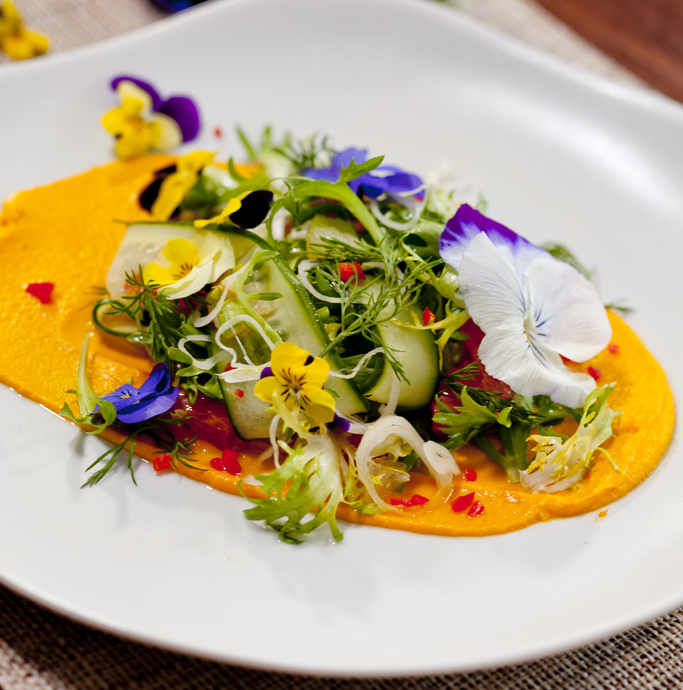 There are two main styles of salad – tossed and composed. In Australia we mostly think about the tossed style, ones that are placed in the middle of a table for everyone to share. But in traditional cuisine salad was a course all of its own, and each diner would get their own delicately arranged serving. The principles of a good composed salad are colour, shape and texture, so this recipe uses carrot sauce for a rich orange backdrop, a mixture of delicate leaves, then an abundance of colour from edible flowers and the bright sparkle of citrus pieces.
Ingredients
2 large carrots, peeled and chopped
⅓ cup extra virgin olive oil
salt flakes and freshly-milled black pepper
2 lemons
1 Telegraph cucumber
1½ cups frisee leaves
1 orange
1½ tsp red wine vinegar
½ tsp brown sugar
½ bunch dill sprigs
1 cup edible flowers
1 eschalot, finely sliced
1 long red chilli, seeded and finely diced
Instructions
1 Steam the carrot pieces over a saucepan of simmering water until very tender, then purée with a stick blender using just enough olive oil to achieve a soft consistency (about ¼ cup). Mix in the finely-grated zest of 1 lemon and season with salt and pepper.
2 Use a peeler to shave the cucumber into fine ribbons. Pick the frisee leaves. Peel, segment and dice the lemons and orange, then mix with the cucumber and fries and toss with 1 Tbsp of the remaining olive oil, the vinegar and sugar. Season lightly with salt and pepper.
3 Spread carrot sauce on plates decoratively, then top with a ring of the frisee mixture. Scatter the dill, flowers, eschalot and chilli on top, then serve.