Spiced carrot cake with walnuts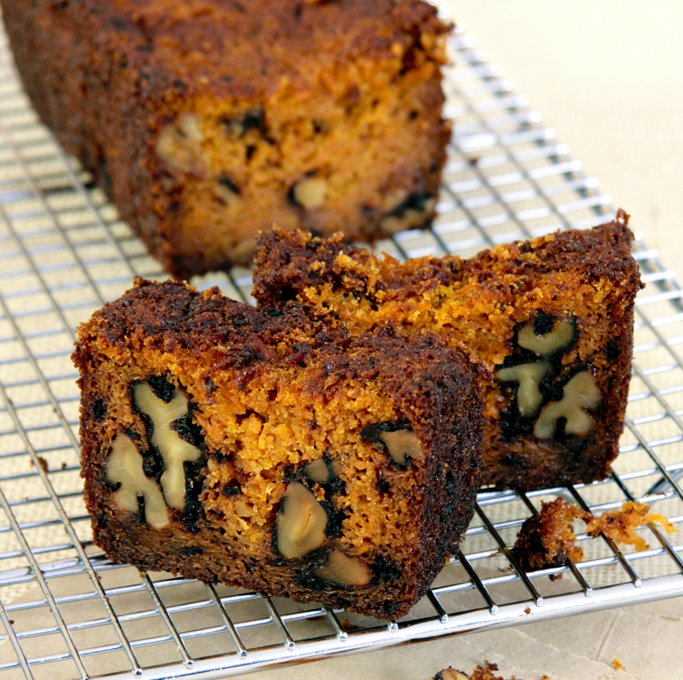 Unfortunately, even the most gluttonous consumption of carrots will not make your vision sharper than it would otherwise have been.
Ingredients
200g walnuts
4 eggs
350g caster sugar
2 cups plain flour
2 tsp baking soda
1 tsp baking powder
2 tsp ground cinnamon
1 tsp ground cloves
1 tsp ground nutmeg
400g carrots, peeled and grated
100g apple sauce
200ml vegetable oil
Instructions
1 Preheat oven to 180°C. Toast walnut for 3 minutes until aromatic.
2 Whisk the eggs and sugar in a electric mixer on high speed for 4 minutes, until frothy and firm. Meanwhile, sift the flour, soda, powder and spices together, then fold in gently. Fold in the carrot, apple sauce and oil.
3 Pour into 2 greased 1.5L loaf pans and bake for 30-35 minutes, or until firm to touch. Cool on a wire rack before slicing.
Professional Tip: Let the mixture sit in the tins for 15 minutes prior to baking for a lighter and more evenly cooked cake.