Soft-centred mocha pudding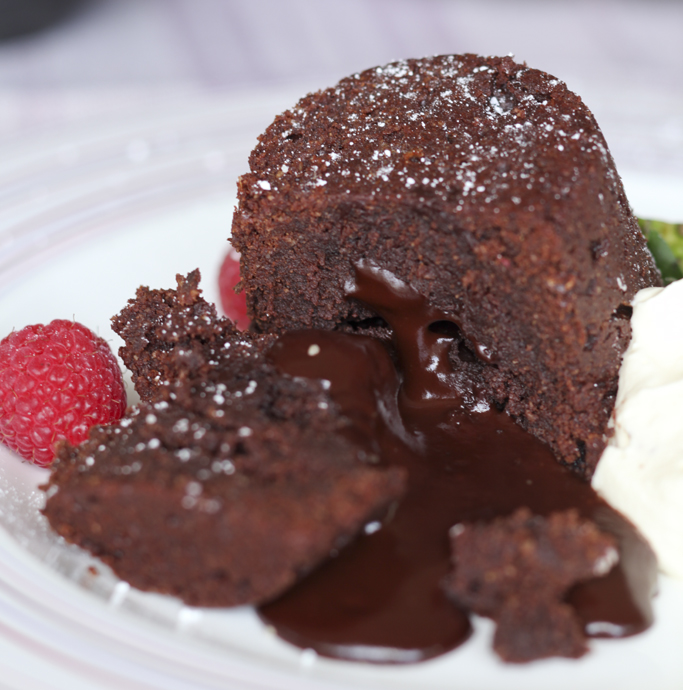 The soft-centred pudding (also known as a fondant) has achieved huge fame in the last few years. But the traditional recipe relies on the cakes being slightly undercooked, which leads to invariable failure, and the potential for nasty food poisoning. So this recipe is the one to rely on. A perfect texture and flavour, with no concerns at all.
Ingredients
230g dark chocolate (70% cocoa)
2 Tbsp cream
2 Tbsp instant coffee powder
50g plain flour
½ cup icing sugar
1 cup almond meal
100g unsalted butter, melted and cooled
2 egg whites
Instructions
1 Preheat oven to 160°C. Combine 60g chocolate with the cream and 1 Tbsp instant coffee powder in a small saucepan and heat gently until melted and smooth. Pour into a small bowl and refrigerate until set. Form into four small balls.
2 Sift the flour, icing sugar and remaining coffee powder into a bowl, then stir in the almond meal and butter. Melt the remaining chocolate, cool slightly, then fold in. Lightly whisk the egg whites until very foamy, then fold in gently.
3 Spoon half the batter into four well-greased ¾ cup dariole moulds, then place a mocha ball on top. Finish with the remaining batter then bake for 25 minutes, until just set. Turn out and serve warm with cream.