Smoked trout and leek quiche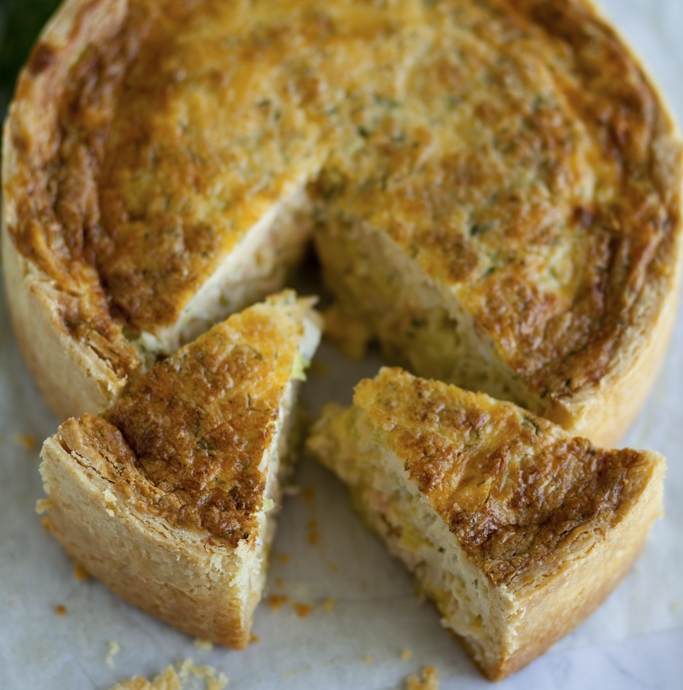 Sunday lunch is served! Delicious straight out of the oven with your favourite greens.
Ingredients
400g pate brisee pastry
1 egg yolk, beaten
1 leek, finely diced
2 cloves garlic, chopped
2 Tbsp unsalted butter
1½ Tbsp plain flour
⅔ cup white wine
7 eggs
400ml cream
salt flakes and freshly-milled black pepper
¼ bunch dill, finely chopped
½ cup parmesan, finely grated
150g hot-smoked trout, crumbled
Instructions
1 Preheat oven to 180°C. Roll out the pastry to 3mm thick, then line into a lightly-oiled 24cm tart tin, taking care to push it all the way into the corners. Refrigerate for 30 minutes, until firm, then line with baking paper and fill with baking weights. Bake for 20 minutes, then remove the lining and bake for 5 more minutes.
2 Brush the inside of the pasty shell with egg yolk and bake for 2 minutes, until glazed.
3 Sauté the leek and garlic in butter for 3 minutes, until softened, then add the flour and cook for 1 minute. Pour in the wine and simmer until thickened, then set aside to cool slightly. Whisk the eggs and cream, then season with salt and pepper. Mix in the leeks, dill, parmesan and trout.
4 Ladle the custard mixture into the pastry case and bake at 160°C for 35 minutes, until just set. Cool for 20 minutes, then slice and serve.