Smoked chicken in a box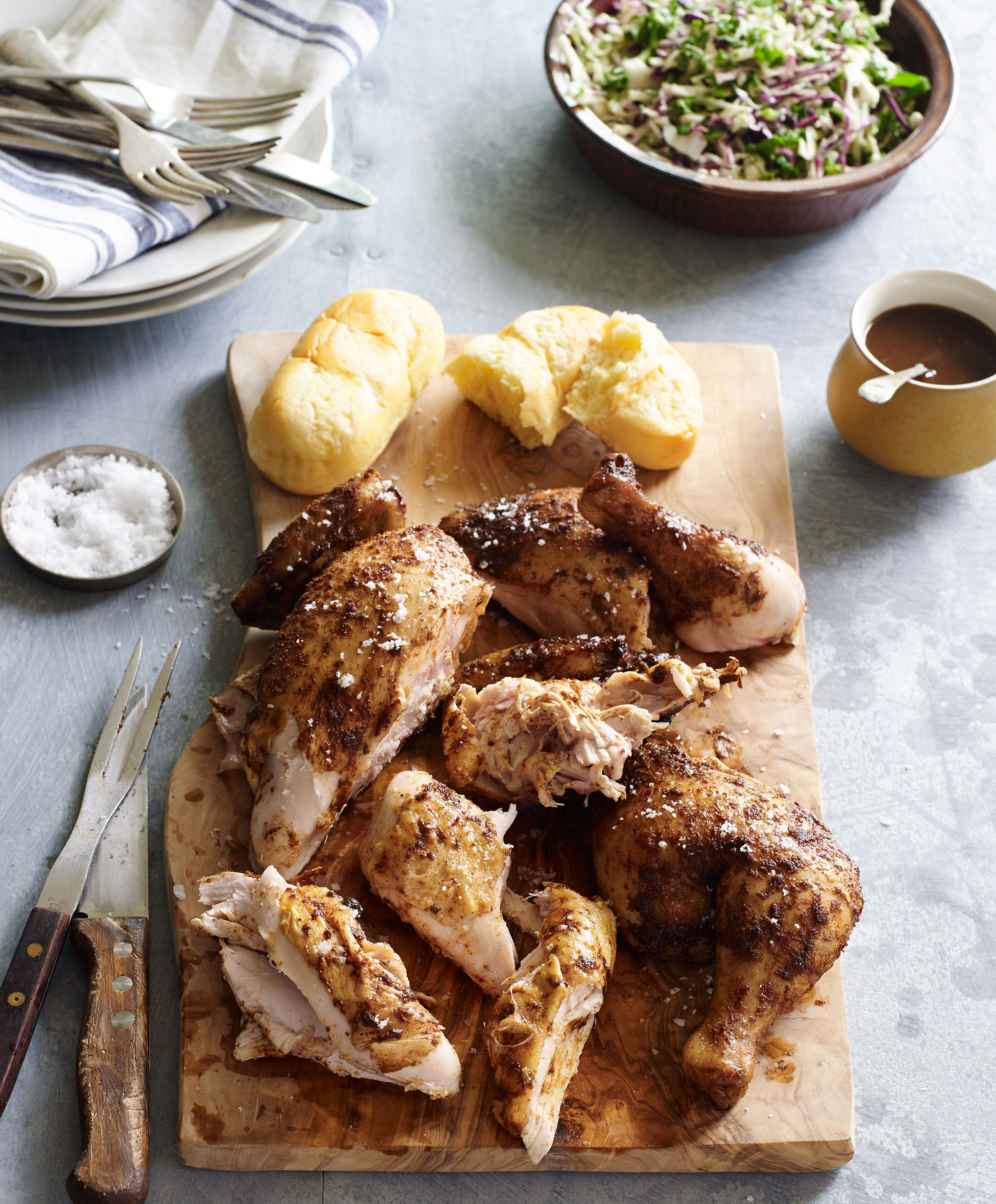 This gentle cooking technique yields tender and moist meat with a distinctly smoky perfume. But to get started, don't go and spend hundreds on a fancy smoker, everything you need can be done for about $15 – a cheap portable burner, a rack, some bricks and a box. Love it!
Ingredients
1.8kg whole chicken
1 cup fine salt
½ cup caster sugar
1 Tbsp peppercorns
1 bunch thyme
1 Tbsp extra virgin olive oil
1 Tbsp Cajun seasoning
2 tsp smoked paprika
1 tsp dried oregano
1 tsp dried sage
2 cup aromatic woodchips, soaked in water
coleslaw, soft buns and gravy, to serve
Instructions
1 Use a sharp pair of scissors to remove the chicken's backbone, then pat dry on all side. Pierce with a metal skewer all over, then set aside. Combine the salt, sugar, peppercorns and thyme with 2 cups boiling water in a large bowl and stir until dissolved, then add 2L cold water and 2 cups ice cubes. Place the chicken in a non-reactive glass container, cover with the brine solution and refrigerate overnight.
2 Drain the chicken well and pat dry. Mix the olive oil, seasoning, paprika and dried herbs, then rub onto the chicken.
3 Put the drained woodchips in a metal bowl and set over a small portable burner. Arrange three house bricks on either side and set a wire rack between them directly over the chips. Put the chicken bone side down on the rack. Once the chips begin to smoke, place a large cardboard box with two 5cm hole in the sides towards the top over the burner and chicken. Smoke for 1-1½ hours with the burner on a low-medium temperature, until the chicken is firm and cooked, topping up the woodchips as needed during this time.
4 Allow to cool slightly, then serve with coleslaw, soft buns and gravy.