Smoked beef with creamed spinach, roast beetroot and chateau potatoes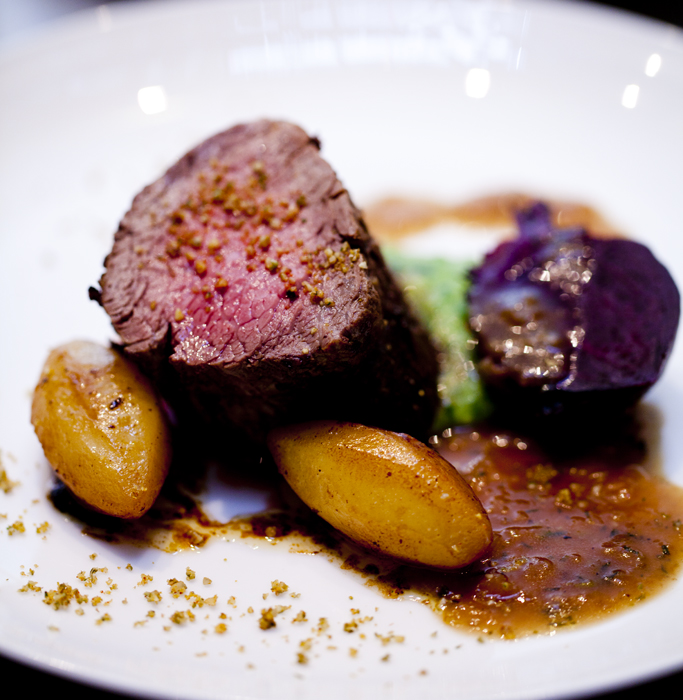 Smokey and smooth with creamy spinach and sweet baby beets.
Ingredients
4 baby beetroot
2 Tbsp extra virgin olive oil
salt flakes and freshly-milled black pepper
4 medium potatoes
100g unsalted butter
1 cup chicken stock
2 bunches English spinach leaves
½ bunch parsley leaves
150ml cream
2 tsp caster sugar
1 handful woodchips
800g piece beef eye fillet
celery salt
2 cups beef stock
½ cup red wine
1 Tbsp cornflour
4 sprigs sage, finely chopped
Instructions
1 Preheat oven to 180°C. Wrap the beetroot in a double layer of aluminium foil with half the olive oil and a generous seasoning of salt and pepper. Bake for 1 hour, until tender, then peel.
2 Use a small knife to cut the potatoes into 12 thin football shapes. Cook these in a pan over a moderate heat in butter until golden, then add the chicken stock, reduce the heat to low, and cook until tender and glossy.
3 Blanch the spinach and parsley leaves until wilted, then refresh in iced water. Drain well, then purée with the cream and sugar. Season with salt.
4 Place the woodchips in a smoker box and set over a barbecue grill. Once smoking, season the beef with celery salt and rub with the remaining olive oil. Cook over a low heat with the barbecue lid down for 15 minutes, turning often, until medium-rare. Et aside to rest.
5 Combine the beef stock, wine, cornflour and sage in a saucepan, mix well, then set over a moderate heat. Boil until thickened.
6 Warm the creamed spinach gently, then spoon onto plates and arrange potatoes and beetroot alongside. Carve the beef and set on top, then finish with gravy.