Simnel cake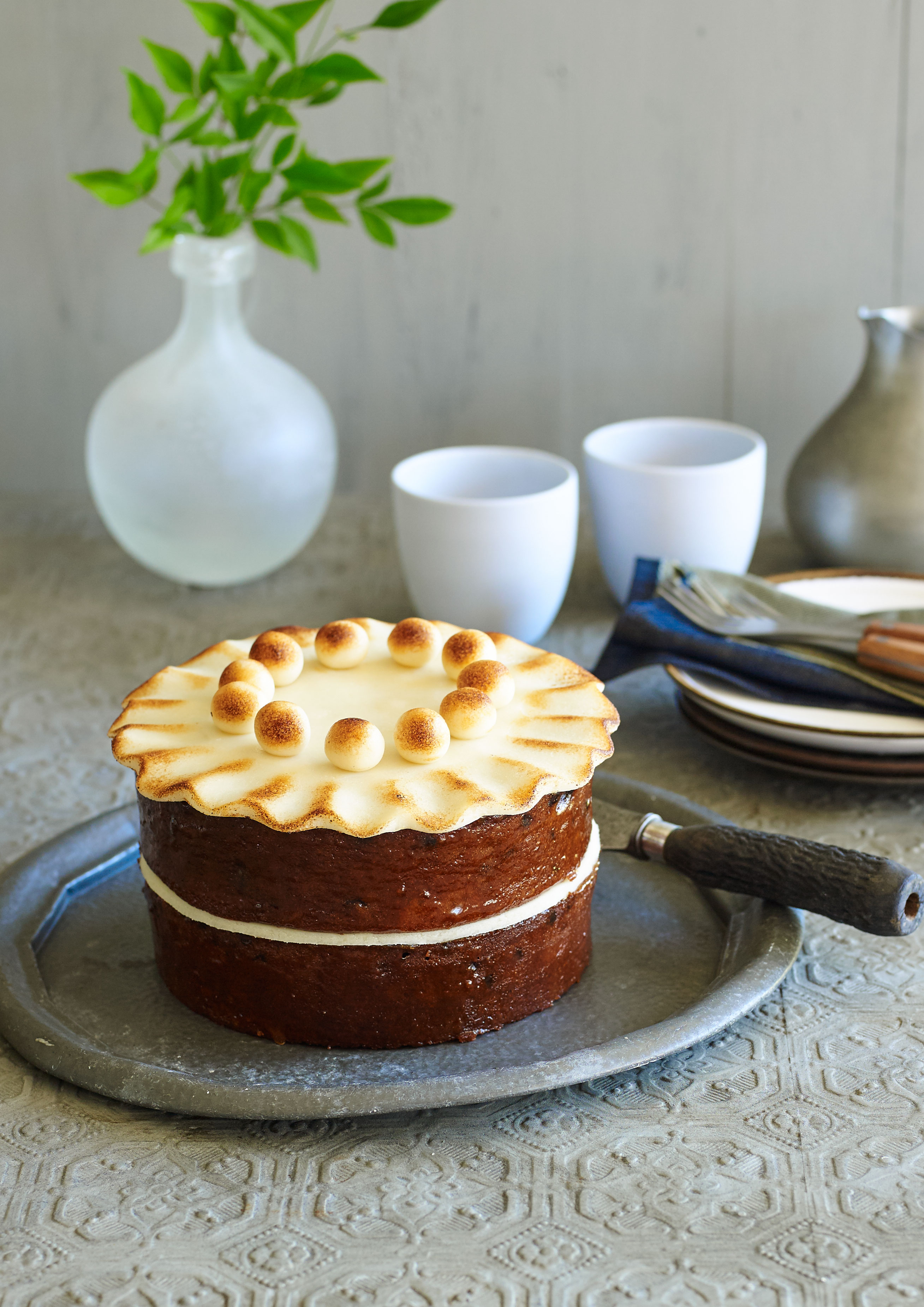 Simnel cake is a traditional English Easter treat baked to be served on the middle Sunday of Lent, a day when Protestant Christians were allowed a break from their forty days of fasting. The cake itself is a two-layered rich fruitcake decorated with marzipan. On the top are eleven balls of marzipan, one for each of the Apostles, less Judas the betrayer.
Ingredients
300g raisins
200g currants
1 cups brandy
300g unsalted butter
200g dark brown sugar
180g caster sugar
finely-grated zest of 4 oranges
1 Tbsp mixed spice
1 tsp freshly-grated nutmeg
6 eggs
4 egg yolks
300g almond meal
300g plain flour
2 tsp baking powder
1 cup milk
2 Tbsp molasses
150g red glacé cherries
100g blanched almonds, toasted and chopped
1½ cups apricot jam
650g marzipan
Instructions
1 Preheat oven to 130°C. Combine the raisins, currants and 1 cup whisky in a bowl, squeeze well, then cover and set aside overnight. Drain, reserving the liquid.
2 Put the butter, sugars, zest and spices in the bowl of an electric mixer and beat with the paddle attachment on medium speed for 5 minutes, until very light. Whisk the eggs and yolks together, then add in a steady stream and beta until smooth. Stir in the almond meal.
3 Sift the flour and baking powder together, then fold in, alternating with the milk. Stir in the molasses, cherries, almonds and soaked raisin mixture. Spoon into two lined 20cm cake tins, then bake for 2½ hours, until a skewer can be inserted and removed cleanly. Cool on a wire rack.
4 Sprinkle the cakes with the reserved fruit soaking liquid and set aside for 20 minutes. Boil the jam in a small saucepan, then brush onto both cakes. Divide the marzipan into three pieces, rolling two of them to 20cm discs. Trim neatly, then drape over the cakes and stack one on top of the other. Make 11 small balls out of the remaining marzipan and arrange on top. Scorch lightly with a kitchen blowtorch.