Sausage-stuffed lamb saddle with thyme, crushed peas and crispy bacon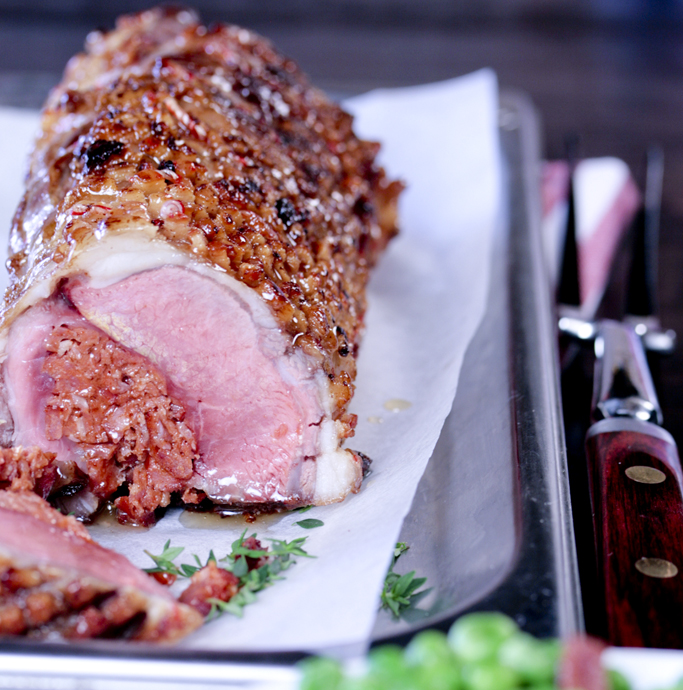 To be honest, thyme is a magnificent herb, and my equal favourite, along with marjoram. It's great with lamb.
Ingredients
1 boneless lamb saddle
salt and pepper
2 chorizo sausages
1 bunch thyme chopped finely
2 rashers bacon, sliced finely
375ml pale ale
2 Tbsp honey
200g peas
2 Tbsp butter
1 sprig mint, chopped
Instructions
1 Preheat oven to 180°C. Season the lamb with salt and pepper. Remove the sausage skins and press the sausage mince along the inside of the saddle with the chopped thyme. Roll up tightly and tie with butchers' twine.
2 Sear the lamb in a hot pan with the bacon in olive oil until browned on all sides. Pour in the ale and honey and simmer on a high heat for 4 minutes. Transfer to the oven and bake for 30 minutes.
3 Cook the peas in rapidly boiling water until just tender then toss with butter and mint and season with salt and pepper. Carve slices of lamb and serve on a bed of peas and bacon.