Salted butterscotch macaroons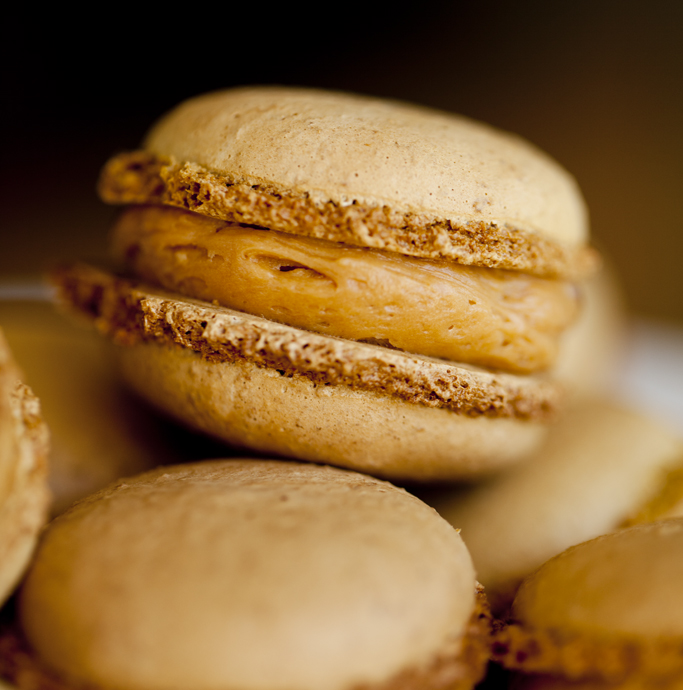 Who can say no to a macaroon? Nobody, right? Here's how to impress at your next dinner party. They take a bit of time but trust me, it's worth it. The salty sweet flavour make these macaroons extra special.
Ingredients
600g caster sugar
350ml pure cream
380g salted butter
½ tsp fine salt
220g egg whites (approx. 8 egg whites), liquified
300g almond meal
300g pure icing sugar, sifted
30ml coffee extract (Trablit brand is best)
1 tsp yellow food colouring
¼ tsp red food colouring
½ tsp cream of tartar
75ml water
Instructions
1 Preheat oven to 180°C. Pour half the sugar into a saucepan and set over a high heat. Cook until it forms a deep amber caramel, then pour in the cream and 70g butter. Turn the heat to low, then cook until the caramel reaches 108°C on a sugar thermometer. Pour into a gratin dish and refrigerate until completely cooled.
2 Place the remaining butter in the bowl of an electric mixer and beat with the paddle attachment on medium speed for 5 minutes until very light, then add the caramel ¼ cup at a time, beating until light and creamy. Set aside.
3 Sift the almond meal and icing sugar together into a bowl, then pour in the coffee extract, colours and half the egg whites, but do not stir.
4 Place the remaining egg whites into the bowl of an electric mixer with the cream of tartar.
5 Put the caster sugar and water in a small saucepan and set over a high heat. Boil until the syrup reaches 112°C, then begin beating the egg whites with the whisk attachment on medium speed. When the syrup reaches 118°C pour into the bowl of the mixer with the motor still running and beat until warm, but not too hot.
6 Spoon the meringue into the almond mixture, and stir until smooth, then load into a piping bag fitted with a 1cm nozzle. Place a circle paper template until a sheet of non-stick paper and pipe the mixture into the circles. Remove the circle paper and repeat until all the batter is used.
5 Tap the trays to flatten, then set aside for 45 minutes until a skin forms on the surface of each. Bake for 8 minutes, then open the door to remove steam, then bake for another 3 minutes and open the door again. Finally bake for another 3 minutes, until the shells are risen and crisp. Cool on a wire rack.
6 Load the caramel mixture into a piping bag fitted with a 1cm nozzle and pipe a small amount onto half the shells. Top with the remaining shells.