Roast chicken with hazelnuts and pepitas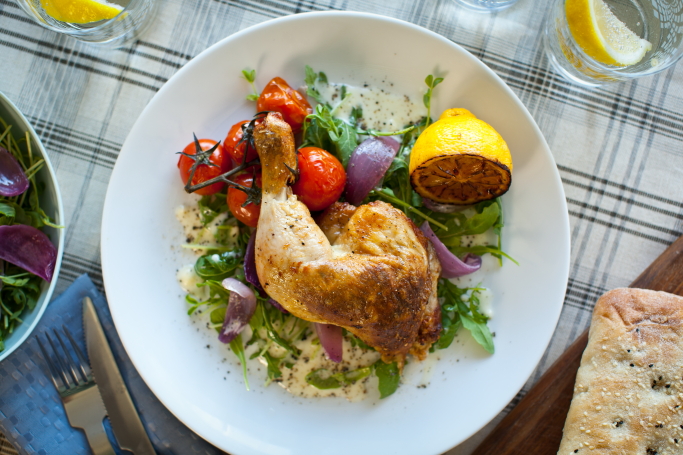 Could this be the ultimate family weeknight dinner? Judging on the taste, I'd reckon it's in with a shot. The richness of the hazelnuts and the lightness of the mint are perfect counterpoints in a meal that, for all its flavour, is extremely simple to prepare. Happy eating!
Ingredients
½ cup hazelnuts, toasted
2 Tbsp pepita seeds, toasted
2 cloves garlic
50g unsalted butter, softened
1 whole chicken (1.5kg), butterflied
2 Tbsp extra virgin olive oil
salt flakes and freshly-milled black pepper
juice of 1 lemon
2 cups peas
1 red onion, finely sliced
2 radishes, finely sliced
½ bunch dill, chopped
½ cup yoghurt
1 Tbsp mustard
½ bunch mint, chopped
toasted hazelnuts, mint leaves and crusty bread, to serve
Instructions
1 Preheat oven to 220°C. Combine the toasted hazelnuts, pepita seeds and garlic in a mortar and pound until smooth. Add the butter and mix until well-combined. Use fingers to pull back the skin from the chicken breasts and insert the butter mixture underneath.
2 Place the chicken in a roasting pan and rub with half the olive oil, then season with salt and pepper. Bake for 20 minutes, drizzle with half the lemon juice, then reduce the heat to 170°C and cook for another 15 minutes until the chicken is well-done.
3 Meanwhile blanch the peas in a pot of rapidly-boiling, salted water for 30 seconds, then refresh in iced water. Mix with the onion, radishes and dill, then drizzle with the remaining olive oil and lemon juice. Season with salt and pepper.
4 Combine the yoghurt, mustard and mint in a jug and purée with a stick blender. Season with salt. Chop the chicken into pieces and serve with pea salad, yoghurt sauce on the side, a topping of toasted hazelnuts and mint and some crusty bread.