Prawn Steaks with Soy Beans, Radish and Saffron Fumé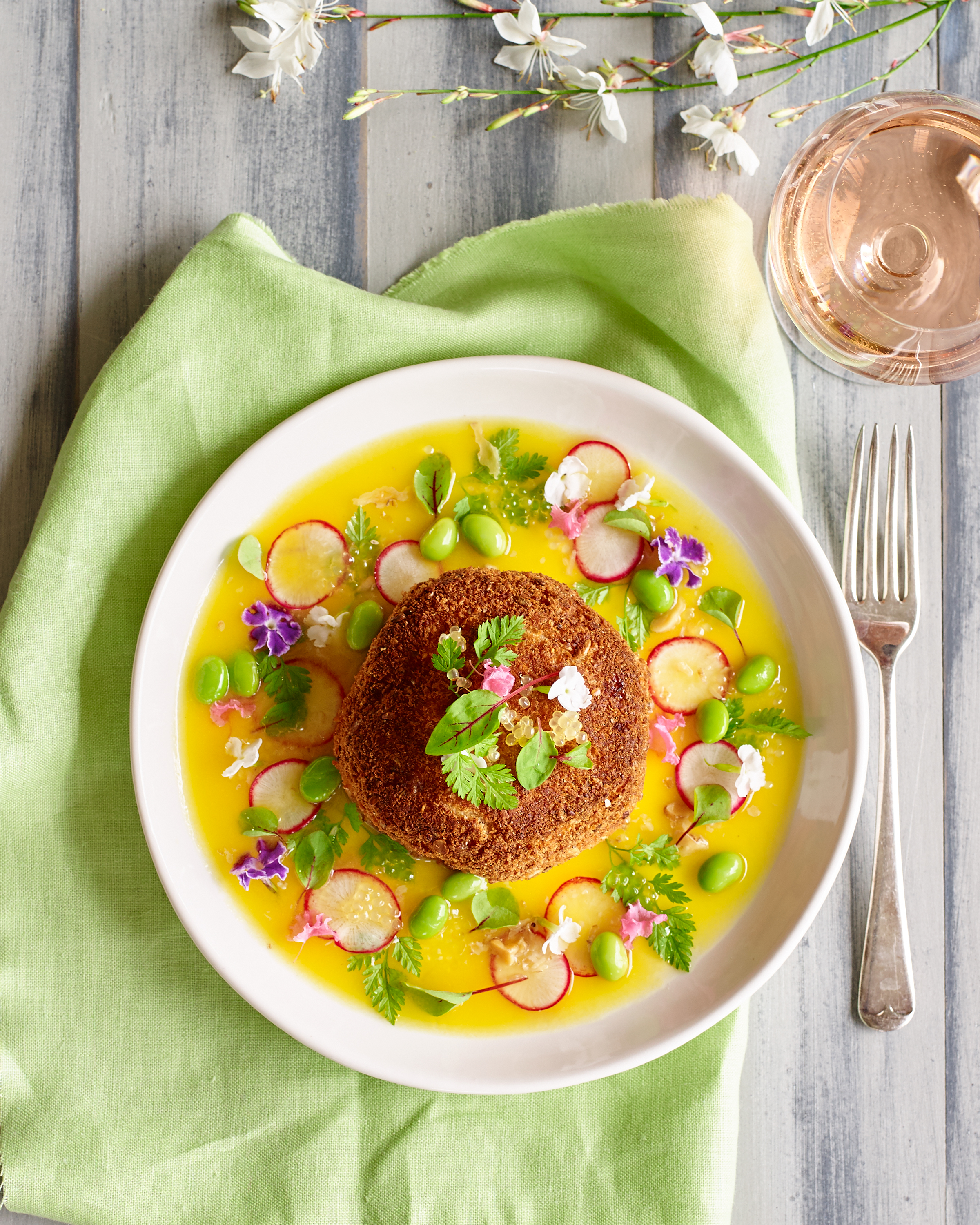 A different way to cook prawns, with soy beans, radish and saffron.
Ingredients
2 Tbsp unsalted butter
2 Tbsp plain flour
1 cup milk
½ cup Pecorino, finely grated
½ tsp grated nutmeg
Sea salt flakes and freshly-milled black pepper
400g prawn meat
3 cups breadcrumbs
½ leek, finely diced
½ head fennel, finely diced
1 stick celery, finely diced
4 cloves garlic, sliced
2 juniper berries
¼ cup extra virgin olive oil
1 Tbsp rice flour
Pinch saffron threads, soaked in 1 Tbsp water
2 cups dry white win
2 cups chicken stock
1 Tbsp cream
1 cup soy beans, blanched
2 radishes, very finely sliced
Finger lime caviar, edible flowers, chervil and toasted walnuts, to garnish
Instructions
1 Preheat oven to 200°C. Combine the butter and flour in a medium saucepan and cook over moderate heat for 3 minutes, until crumbly, then whisk in the milk and cook (stirring constantly, until thickened. Mix in the Pecorino, then season with salt and pepper. Set aside to cool.
2 Place the Pecorino sauce in a food processor with the prawns and purée until a rough paste forms. Transfer to a bowl and mix in half the breadcrumbs. Season with salt, then form into four patties and toss in the remaining breadcrumbs and chill until firm.
3 Sauté the leek, fennel, celery, garlic and juniper berries in half the olive oil in a medium saucepan over a moderate heat for 5 minutes, until softened. Scatter with rice flour, cook briefly, then stir in the saffron, wine, stock and cream. Simmer for 15 minutes, then strain through a fine sieve and season with salt.
4 Fry the prawn patties in the remaining olive oil in a large frying pa over a moderate heat for 10 minutes turning several times, then transfer to the oven a and bake for 10 minutes. Pour the saffron sauce into bowls, then place a prawn steak in the centre and garnish with soy beans, radish slices, finger lime caviar, flowers, chervil and walnuts.