Prawn Cacciucco with Salsa Verde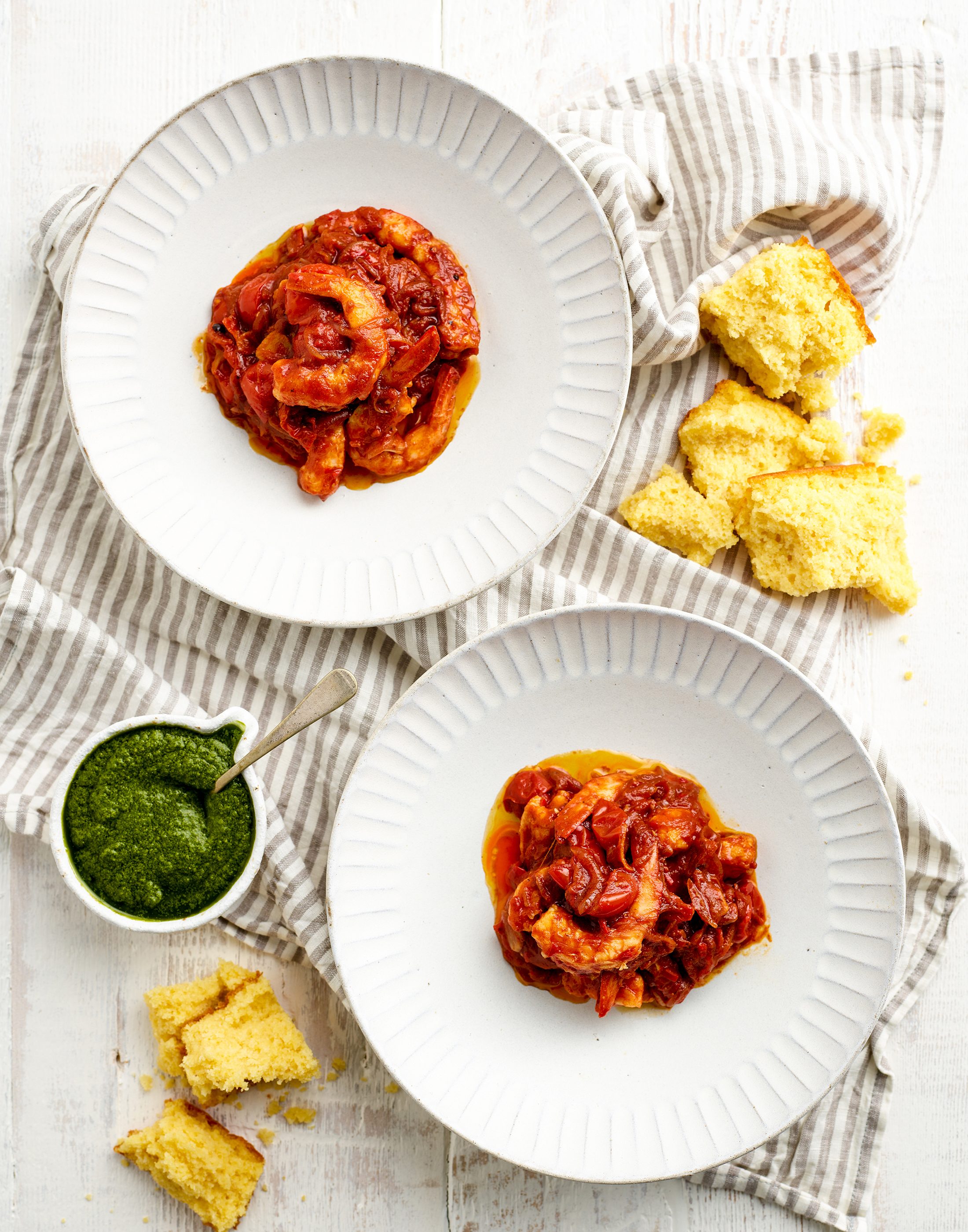 Light, fresh and perfect for a seaside camping adventure.
Ingredients
1 red onion, sliced
12 cloves garlic, sliced
2 long red chillies, seeded and diced
2 bay leaves
1 tsp fennel seeds, cracked
2 juniper berries, crushed
4 anchovy fillets
1 cup extra virgin olive oil
2 x 400g can cherry tomatoes
2 tsp red wine vinegar
2 tsp brown sugar
sea salt flakes and freshly-ground black pepper
20 large green King prawns, peeled and de-veined
1 bunch parsley leaves
1 bunch mint leaves
1 bunch basil leaves
2 tsp capers
zest and juice of 2 lemons
4 cornichons
cornbread, to serve
Instructions
1 Sauté the onion, half the garlic, chillies, bay leaves, fennel seeds, juniper berries and anchovies in 2 Tbsp extra virgin olive oil for 3 minutes, until aromatic. Mix in the tomatoes, vinegar and sugar, then simmer for 5 minutes. Add the prawns, then cook gently. Season with salt and pepper.
2 Combine the herbs, capers, zest, juice, cornichons and remaining garlic in a blender then purée with ½ cup extra virgin olive oil. Season with salt and a generous amount of pepper. Place cornbread in the bowl, ladle prawn mixture over, then serve with salsa verde.