Pistou tartine with eggplant, celery and goats cheese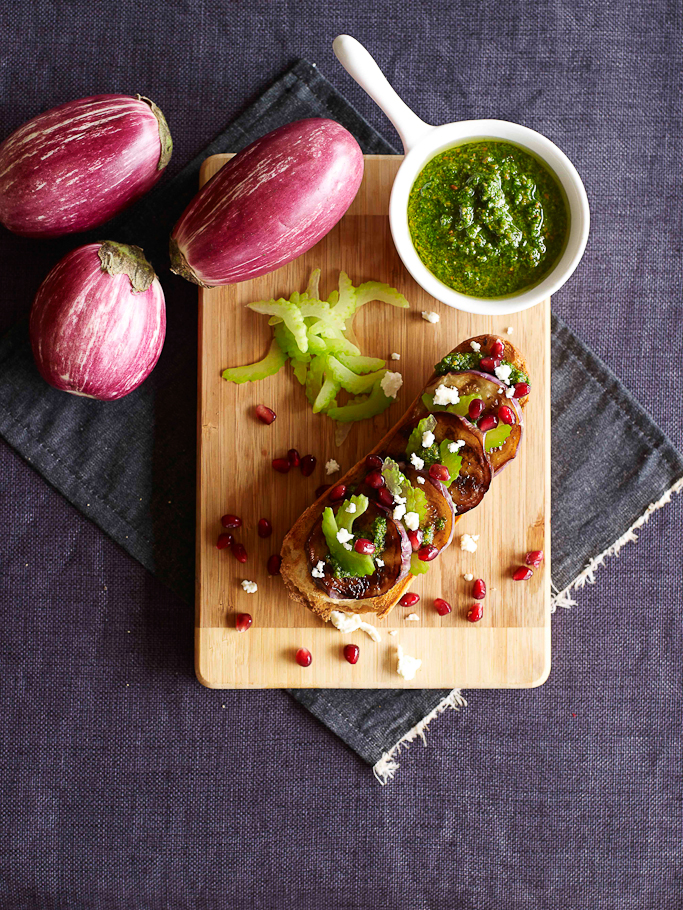 Light and healthy, brimming with flavour. This simple yet elegant French treat is just what you need for e perfect lunch or snack. The pistou sauce also makes a great dressing for pasta, or for poultry and seafood, so make an extra big batch!
Ingredients
1 bunch basil leaves
1 bunch marjoram leaves
½ bunch parsley leaves
½ bunch dill sprigs
8 cloves garlic, minced
4 anchovy fillets
1 cup extra virgin olive oil
1 cup Pecorino, finely grated
100g pine nuts, toasted
1 medium eggplant
½ baguette, split
1 stick celery, finely sliced
1 Tbsp pomegranate seeds
2 Tbsp csoft goats cheese, crumbled
Instructions
1 Preheat oven to 210°C. Combine the herbs, garlic, anchovies and 165ml oil in a blender and purée until smooth. Add the cheese and pine nuts and pulse until the nuts are kibbled. Season with salt and pepper.
2 Slice the eggplant in ½ cm pieces, rub with 2 Tbsp oil, then grill over a high heat for 3 minutes, until browned. Season with salt and pepper. Brush the bread with the remaining oil and bake for 5 minutes, until crunchy.
3 Top the bread with eggplant, pistou, celery, pomegranate seeds and cheese.