Pistachio and Candied Cherry Bundt with Sweet Apple Cinnamon Tea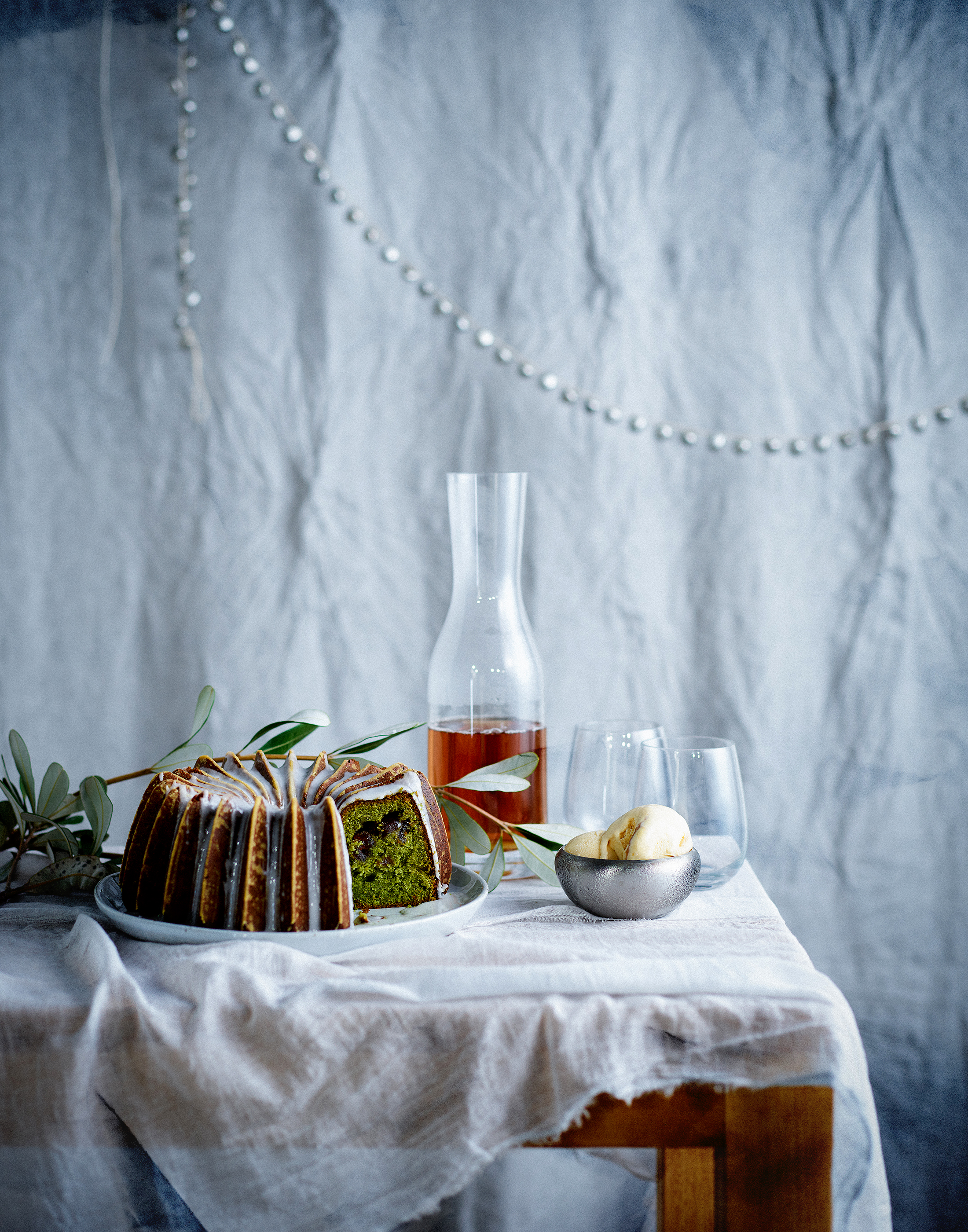 This bundt is a beautiful cake to serve at Christmas, especially with sweet apple and cinnamon tea.
Ingredients
PISTACHIO AND CANDIED CHERRY BUNDT
300g pistachios
2 sprigs rosemary leaves
225g sour cream
1 tsp vanilla paste
175g honey
225g unsalted butter
300g caster sugar
5 eggs, separated
325g self-raising flour
lemon drizzle icing, to serve
SWEET APPLE AND CINNAMON TEA
2 Granny Smith apples, chopped
zest of 1 orange
1 cinnamon stick
1 Tbsp black tea leaves
1 cup honey
Instructions
PISTACHIO AND CANDIED CHERRY BUNDT
1 Preheat oven to 170°C. Combine the pistachios, rosemary, sour cream, vanilla and honey in a blender and purée until smooth. Place the butter and 200g caster sugar in the bowl of an electric mixer and beat with the paddle attachment on medium speed for 5 minutes, until light. Beat in the egg yolks.
2 Whisk the egg white to soft peaks, then add the remaining sugar 1 Tbsp at a time, until a meringue forms. Fold the flour into the pistachio mixture, then gently fold in the meringue. Spoon into a buttered and floured 2 ½ L Bundt mould and bake for 45-50 minutes, until a skewer can be inserted and removed cleanly. Cool on a wire rack for 5 minutes, then invert to unmould.
––
SWEET APPLE AND CINNAMON TEA
1 Combine the apple, orange zest and cinnamon in a bowl, then cover with 2L boiling water. Set aside to cool completely. Strain, then transfer the liquid to a medium saucepan and boil rapidly. Add the tea leaves and honey, stand for 4 minutes, then strain through a fine sieve.