Pissaladiere with olive oil pastry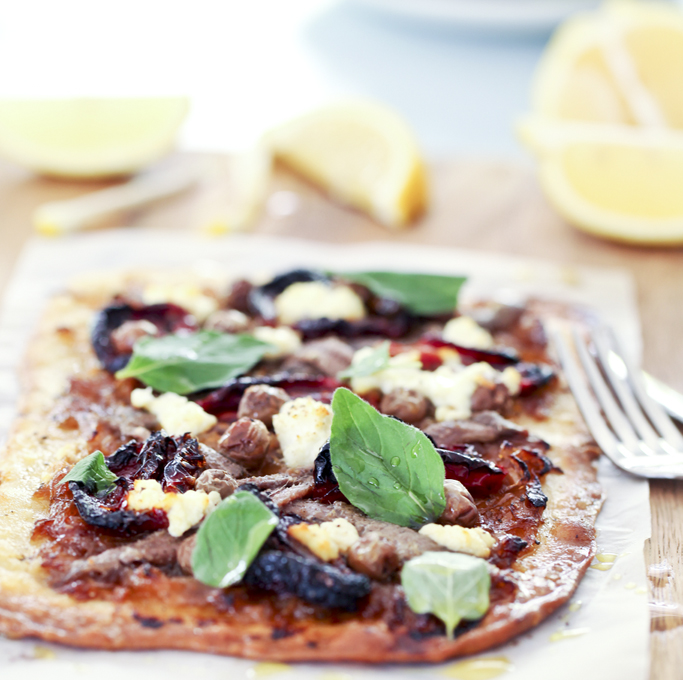 Best of all, there's no yeast involved, and as such you can prepare a pissaladiere from scratch in just a fraction of the time it takes to make true pizza.
Ingredients
2 cups plain flour
1 cup sparkling mineral water
3 Tbsp extra virgin olive oil
1 tsp fine salt
4 brown onions, sliced very finely
4 garlic cloves, sliced
1 Tbsp Balsamic vinegar
24 anchovy fillets
½ cup Arbequina olives
24 pieces semi-dried tomatoes
½ cup ricotta
salt flakes and freshly cracked black pepper
oregano leaves and lemon wedges to serve
Instructions
1 Preheat oven to 200°C. Combine the flour, mineral water, 2 Tbsp olive oil and fine salt in a bowl and mix until a pliable dough forms. Set aside to rest briefly.
2 Sauté the onions in the remaining olive oil with the garlic and cook until softened. Add the balsamic vinegar and cook until dry. Season with salt and pepper.
3 Roll out the pastry to 3mm thick and line into a 22cm tart ring. Discard the trim. Top with onion mixture, anchovies, olives, tomatoes and ricotta, then sprinkle with salt flakes and pepper. Bake for 20 minutes until just set. Serve slices with oregano leaves and lemon wedges.