Pinata cookies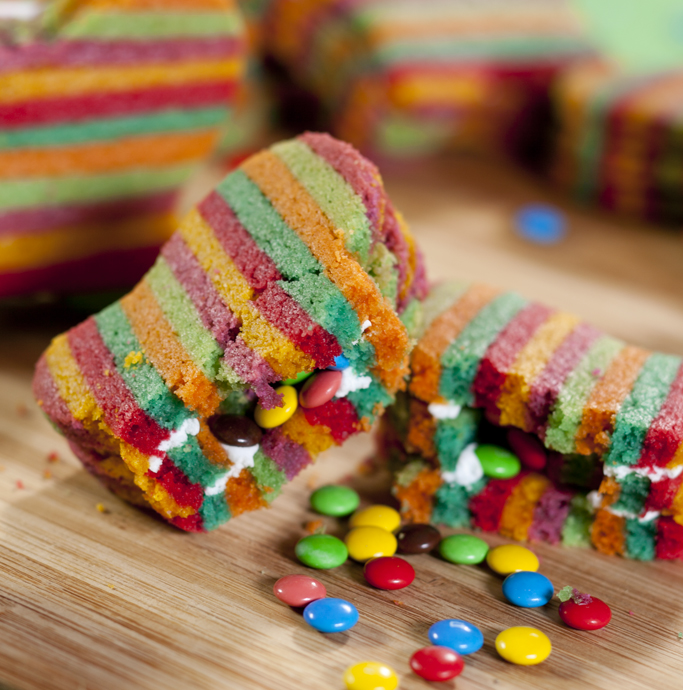 This will be the biggest recipe of the year….so get your skates on. The critical info is to ensure that your slices of biscuit are as big as your cutter; to use a symmetrical shape to reduce errors; to cut the shapes carefully so that the colour lines match up; to not overcook the biscuits or they will be hard to cut; and to bake in small batches so there is tome to cut hem before they firm up as they cool.
Ingredients
375g unsalted butter
1 1/2 cups caster sugar
1 egg
2 egg yolks
2 tsp natural vanilla extract
4 cups plain flour
2 tsp bicarbonate of soda
1/2 tsp fine salt
food colours
1 1/2 cups icing sugar
1 egg white
1 tsp lemon juice
1 cup miniature chocolate buttons
Instructions
1 Preheat oven to 180C. Combine the butter and sugar in the bowl of an electric mix and beat with the paddle attachment on medium speed for 5 minutes, until light and creamy. Add the egg, yolks and vanilla, then continue beating for 1 more minute.
2 Sift the flour, bicarbonate of soda and salt together, then fold in entry, mixing until a dough forms.
3 Divide the dough into six even pieces, and tint each a different colour. Roll out between layers of non-stick baking paper, then stack in layers. Cut in half and stack on top to create a block a least as high as your cutter. Refrigerate for 1 hour, until firm.
4 Cut into slices ½cm thick and arrange on lined baking trays. Bake for 12 minutes until firm, but not golden, then immediately cut into shapes while the biscuits are still soft. Cut a whole in the centre of every third biscuit for filling later.
5 Combine the icing sugar, egg white and lemon juice in the bowl of an electric mixer and beat with the paddle attachment on medium speed for 5 minutes, until very light. Pipe an outline onto the underside of one of the complete biscuits, then arrange a hollow one on top. Fill with miniature chocolate buttons, then pipe more icing around the edge and complete with a second biscuit. Set aside for 20 minutes, until the icing is firm.