Peppered rib eye cutlet with beaujolais pan sauce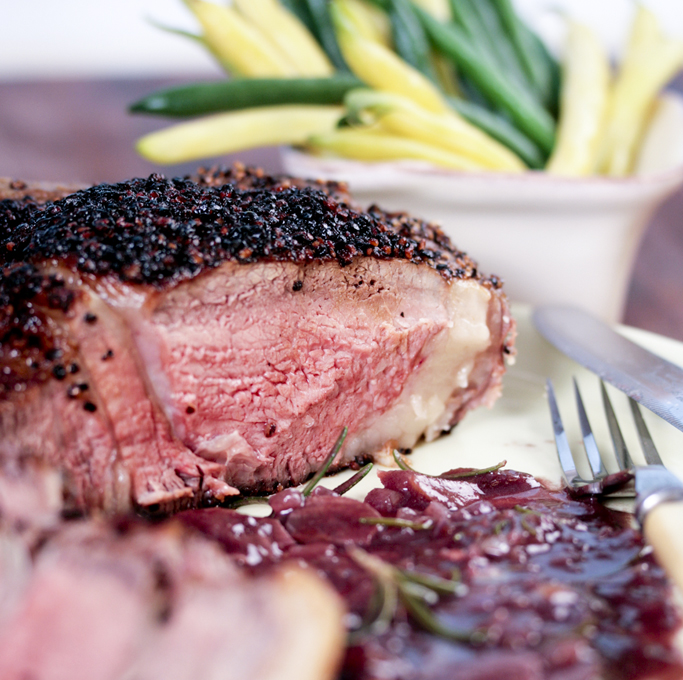 A giant brontosaurus steak that hangs over the edge of the plate is pure indulgence.
Ingredients
4 x 450g rib eye cutlet
2 Tbsp cracked black pepper
sea salt
2 Tbsp extra virgin olive oil
1 Tbsp unsalted butter
2 eschalots, finely minced
1 tsp plain flour
2 sprigs rosemary leaves
1 garlic clove, minced
4 anchovy fillets
500ml Beaujolais wine
green beans and radish salad, to serve
Instructions
1 Coat each rib eye cutlet with cracked pepper and season lightly with salt. Pour the olive oil into a heavy-based frypan and set over a medium heat. Sear the steaks for 4 minutes on each side, until cooked medium rare, then set aside in a warm place to rest.
2 Add the butter to the pan and sauté the eschalots for 2 minutes. Add the flour, rosemary, garlic and anchovies and cook for 2 minutes. Pour in the Beaujolais and simmer for 5 minutes to reduce to sauce consistency.
3 Grill the steaks lightly to re-warm and serve with the pan sauce, beans and radish salad.
Professional Tip: Beaujolais is a light French red wine made form Gamay grapes. Pinot Noir is a good alternative.