Pear and raisin turnovers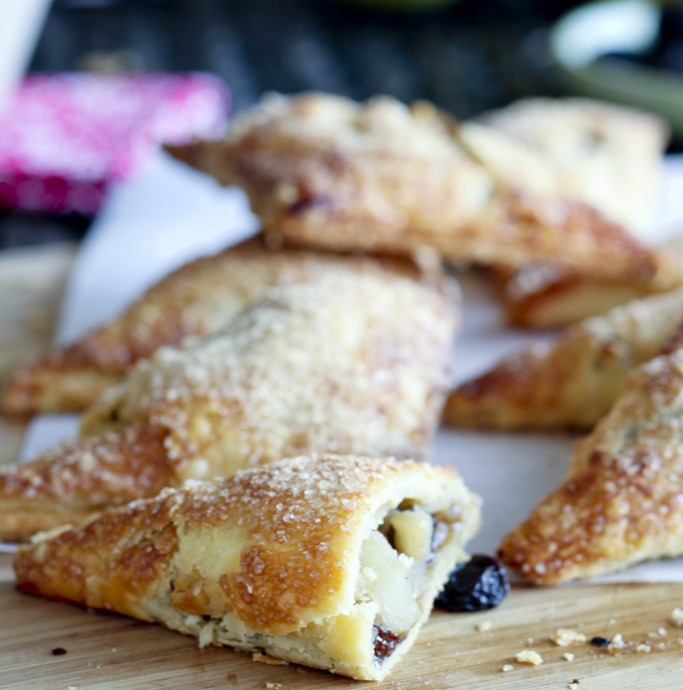 A simple Autumn dessert that's just perfect for a family dinner, using seasonal pears.
Ingredients
150g unsalted butter, softened
1 cup plain flour
125g cold cream cheese, finely diced
2 large pears, peeled and cored
2 Tbsp raisins, chopped
2 Tbsp caster sugar
½ tsp ground cloves
¾ cup sweet sherry
1 Tbsp cornflour
2 eggs, beaten
¼ cup raw sugar
double cream, to serve
Instructions
1 Preheat oven to 180°C. Combine 125g butter in a food processor with the flour and pulse until just mixed. Add the cream cheese and pulse several times, until a dough forms, but white dots of cream cheese are still visible. Smear the pastry on the bench to stretch those white dots, then form a ball and refrigerate for 2 hours, until firm.
2 Dice the pears, then combine in a medium saucepan with the raisins, sugar, cloves and remaining butter Cook for 5 minutes, until beginning to caramelise. Mix the sherry and cornflour, pour in, then cook until thickened. Set aside to cool.
3 Roll out the pastry to ½cm thick, then cut into 12cm squares. Brush with beaten egg, then place a large spon of the pear mixture in the centre of each. Fold over to form a triangle, then arrange on a lined oven tray. Brush the top with egg and sprinkle with raw sugar. Bake for 25 minutes, until golden and crisp, then serve warm with double cream.