Peanut butter slice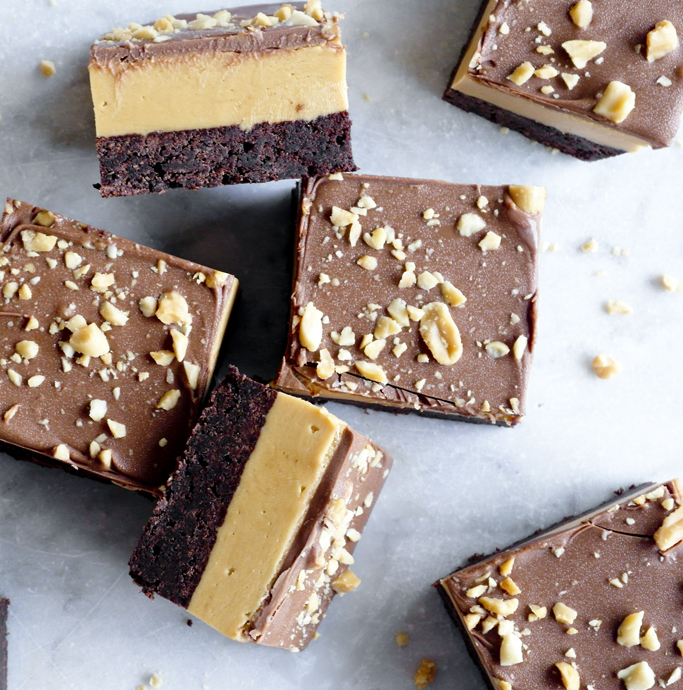 There's time to be good and there has to be time to be, well, not so good! Here's what to eat when you're all for having fun.
Ingredients
150g dark chocolate
100g unsalted butter
2 eggs
150g caster sugar
1 cup plain flour
¼ cup cocoa powder
2 cups smooth peanut butter
1¼ cups icing mixture
juice of ½ lemon
200g milk chocolate
¼ cup toasted peanuts, chopped
Instructions
1 Preheat oven to 160°C. Combine the chocolate and butter in a heatproof bowl and set over a saucepan of simmering water, stirring until just melted. Add the eggs and sugar and beat until smooth. Sift in the cocoa and flour, then spoon into a lined 20cm square cake tin and bake fro 40 minutes, until just set. Cool in the tin.
2 Combine the peanut butter, icing mixture and lemon juice in a bowl and whisk until smooth. Pour over the cooled chocolate slice, then refrigerate for 2 hours, until set.
3 Melt the milk chocolate gently and spread over the peanut butter layer. Sprinkle with chopped peanut, refrigerate for 1 hour, then cut into bars and serve.