Peach breton with honey and pistachios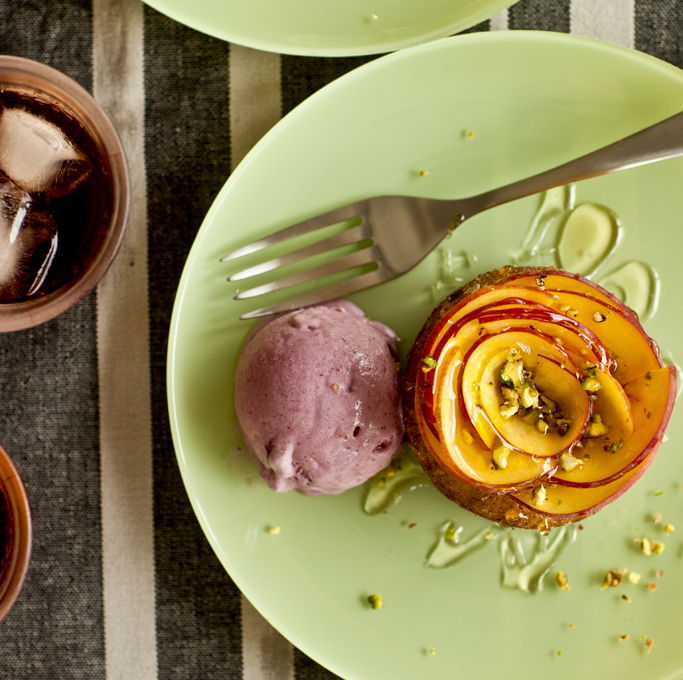 Crumbly, buttery vanilla cake - French style! Beautiful alone but even better if you top it off with your favourite fruit and a drizzle of syrup or ice cream.
Ingredients
115g salted butter, softened
115g caster sugar
finely-grated zest of 1 lemon
scraped seeds of 1 vanilla bean
½ tsp ground cinnamon
3 egg yolks
150g plain flour
1 tsp baking powder
2 ripe peaches, halved and finely-sliced
2 Tbsp pistachios, finely chopped
½ cup honey
berry ice cream, to serve
Instructions
1 Preheat oven to 180°C. Combine the butter, sugar, lemon zest, vanilla and cinnamon in the bowl of an electric mixer and beat with the paddle attachment for 3 minutes, until very light and cream. Beat in the egg yolks, then sift in the flour and baking powder, mixing until smooth.
2 Pipe the batter into four buttered and floured 8cm metal dessert rings arranged on a lined baking tray. Bake for 20 minutes, until golden and just set. Allow to cool, then remove from the rings.
3 Scoop a spoonful out from of the cake, then arrange the sliced peaches in the centre in a floret. Scatter with pistachios and drizzle with honey, then serve warm with berry ice cream.