Pashka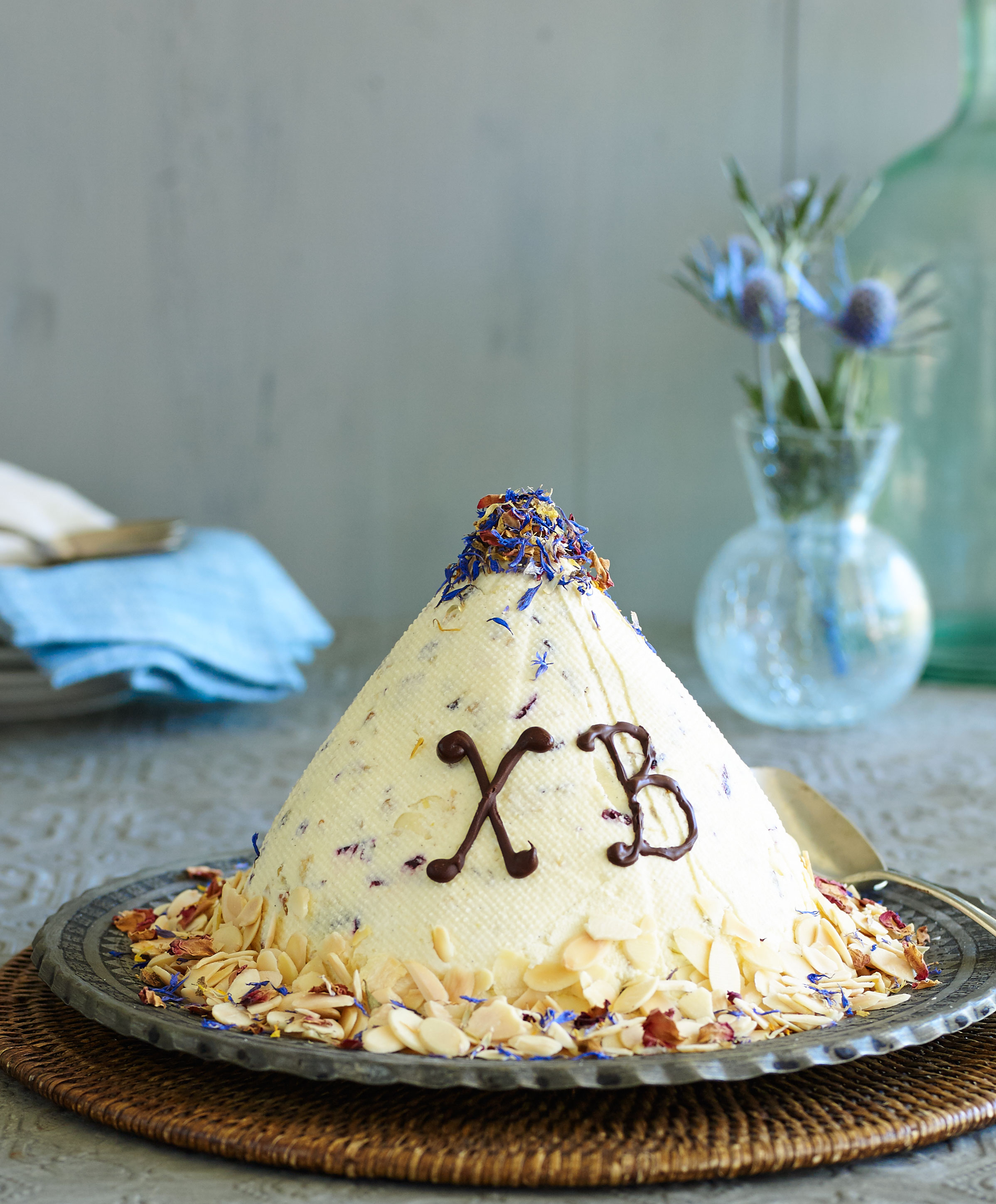 Rich and creamy, much like a rustic cheesecake, it is full of delicious dried fruit. The 'XB' decoration that is placed on the side stands for the Cyrillic meaning 'Christ is Risen'.
Ingredients
8 egg yolks
125g caster sugar
finely grated zest of 2 lemons
finely-grated zest of 2 oranges
300ml cream
750g full-cream ricotta
2 tsp natural vanilla extract
50g gold raisins, chopped
50g dried cranberries, chopped
50g dried peaches, chopped
50g dried apples, chopped
125g hazelnuts, toasted and chopped
1 cup sliced almonds, toasted
edible flowers and melted chocolate, to garnish
Instructions
1 Combine the yolks, sugar and zests in a bowl until very light. Pour the cream into a small saucepan and bring to a boil. Pour over the yolk mixture, whisk until smooth, then return to the heat and cook gently until just thickened. Strain through a fine sieve into a bowl set over an ice bath, then allow to cool completely.
2 Add the ricotta and vanilla, then whisk until smooth. Fold in the dried fruits and hazelnuts. Line a 1.25L conical sieve with cheesecloth then spoon in the ricotta mixture. Set over a bowl, then cover and refrigerate overnight.
3 Invert over a plate and remove the sieve and cheesecloth. Garnish the base with sliced almonds, then decorate the top with flowers. Pipe the chocolate into an 'X' and a 'B'. Once set, place on the side.