Orecchiette with lamb and mushroom ragu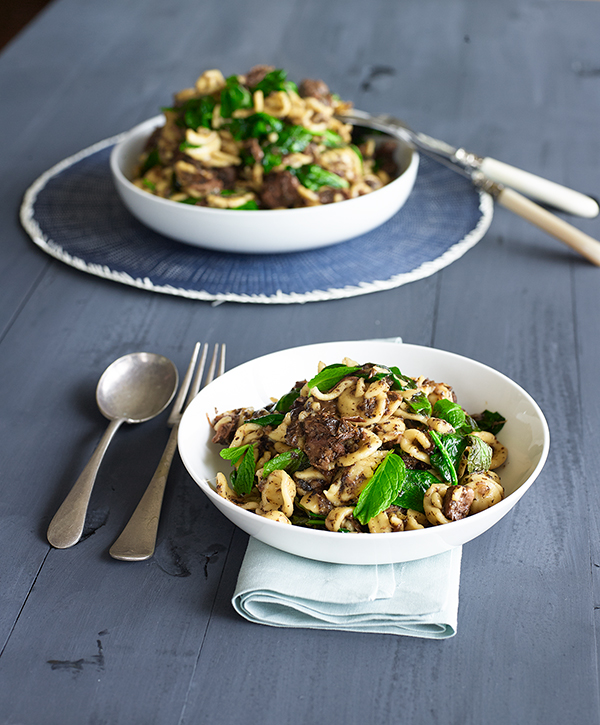 Rich and hearty flavours of lamb and mushroom.
Ingredients
1kg lamb shoulder, diced
¼ cup extra virgin olive oil
1 leek, finely diced
12 cloves garlic, minced
500g button mushrooms, chopped
1 Tbsp celery seeds
1 Tbsp dried porcini mushrooms, chopped
2L beef stock
sea salt flakes and freshly-milled black pepper
400g orecchiette
1 cup finely-grated Parmigiano
4 cups baby spinach leaves
1 bunch mint leaves
Instructions
1 Fry the lamb pieces in half the olive oil in a saucepan over a high heat for 5 minutes, until well-browned. Set aside. Sauté the leek and garlic in the remaining olive oil for 3 minutes, until softened, then mix in the mushrooms and cook for 10 minutes, until dry.
2 Return the lamb pieces with the celery seeds, porcini mushrooms and stock, then bring to a simmer. Cook gently for 2 hours, until the meat is tender, then transfer the liquid to a second saucepan and boil until thickened, then pour back onto the meat.
3 Cook the orecchiette in a large saucepan of rapidly-boiling salted water until al dente, then drain well and mix into the lamb ragu with the Parmigiano, spinach and mint leaves. Serve.