Mixed bbq seafood with avocado and pine nut salad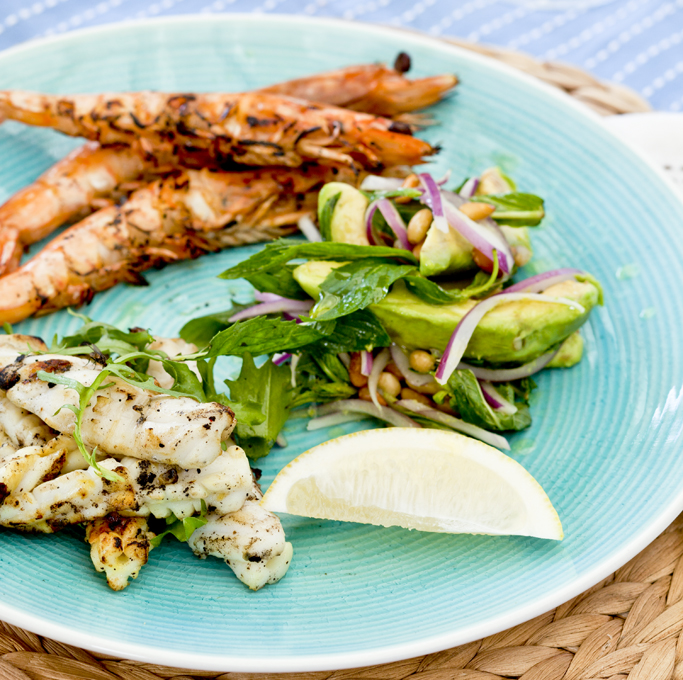 Juniper berries and lemon zest will add a whole new dimension to your calamari, remember not to cook it for too long.
Ingredients
600g calamari hoods, cleaned
4 juniper berries, crushed
zest and juice of 1 lemon
½ cup extra virgin olive oil
16 extra large green King prawns
cooking oil spray
salt flakes and freshly-milled black pepper
2 cups frisee lettuce leaves
2 avocadoes, peeled and seeded
1 red onion, finely sliced
100g pine nuts, toasted
½ bunch mint leaves
Instructions
1 Slice up one side of the calamari hoods and place inside upwards on the chopping board. Use a small sharp knife to cut a fine cross hatch pattern, then slice into 4cm squares. Combine in a bowl with the juniper berries, lemon zest and 100ml olive oil, then set aside to marinate for 30 minutes. Thread the prawns onto metal skewers.
2 Drain the calamari and cook on a hot barbecue grill for 3 minutes, until curled and just firm. Remove from the grill and season with salt and pepper. Toss with the frisee leaves Sprinkle with prawns with cooking oil spray and cook on a hot barbecue grill for 3 minutes, turning several times, until pink and firm.
3 Meanwhile, toss the avocadoes, onion, pine nuts and mint in a large bowl, then drizzle with the remaining olive oil and lemon juice, season lightly with salt and pepper. Arrange the seafood around the salad and serve.