Mexican chicken with pumpkinseed sauce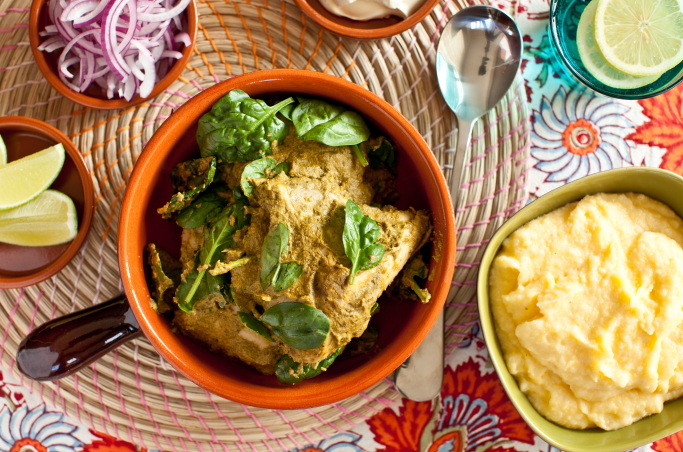 Mexican food is more than just tacos and burritos....as delicious as they might be. Some of the best dishes come from the south east, around the Yucatan peninsula, like this rich and hearty chicken.
Ingredients
½ cup pumpkinseeds
2 Tbsp sesame seeds
1¼ cups roasted unsalted peanuts, chopped
#15 chicken, cut into 8 pieces
salt flakes and freshly-milled black pepper
1½ L chicken stock
1 white onion, finely diced
1 clove garlic, minced
1 cup tomatillos, drained
2 long green chillies
1 bunch parsley leaves
2 cups spinach leaves
polenta, to serve
Instructions
1 Preheat oven to 180°C. Combine the pumpkinseeds and sesame seed on an oven tray and bake for 5 minutes, until toasted. Grind with half the peanuts, until a smooth paste forms.
2 Season the chicken pieces generously, then place in a saucepan with the stock and set over a low heat. Simmer very gently for 30 minutes, until just cooked, then set aside, covered with cling film.
3 Add the pumpkinseed mixture, onion, garlic, tomatillos and chillies to the saucepan and boil rapidly for 15 minutes. Add the parsley and most of spinach then purée with a stick blender, remove from the heat and return the chicken. Mix in the remaining peanuts and spinach, then serve with polenta.