Marinated tuscan-style lamb leg chops with grilled zucchini salad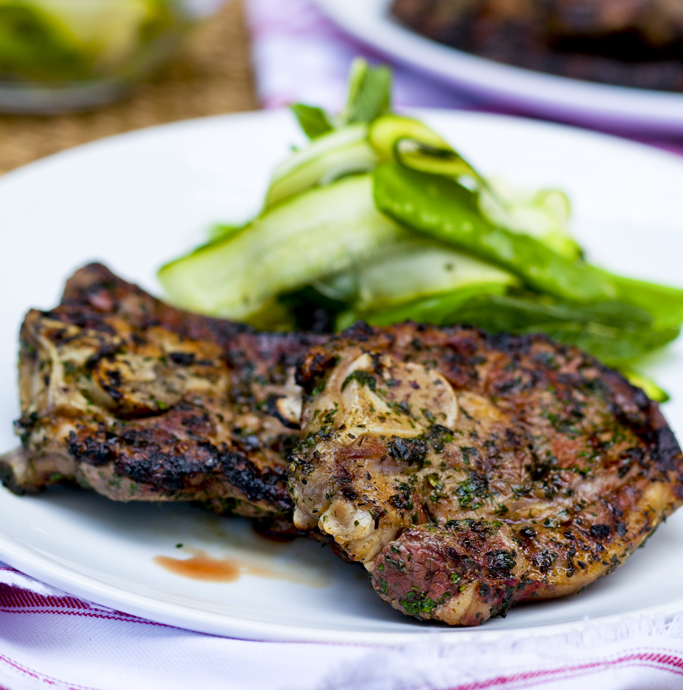 There's a super-simple way to improve your marinating – pierce the meat many times to open up the fibres.
Ingredients
8 lamb leg chops
¼ bunch oregano leaves, chopped
¼ bunch parsley leaves, chopped
3 cloves garlic, minced
1 tsp baby capers, chopped
½ cup extra virgin olive oil
salt flakes and freshly-milled black pepper
4 medium zucchini, sliced lengthways
1 Tbsp red wine vinegar
2 Tbsp pine nuts, toasted
100g feta, crumbled
1 bunch mint leaves
lemon wedges and crusty bread, to serve
Instructions
1 Use a metal skewer to pierce the lamb chops repeatedly (at least 40 piercings per chop is good). Combine the oregano, parsley, garlic, capers and half the olive oil in a bowl. Mix well then add the lamb chops. Cover and refrigerate for 30 minutes to marinate.
2 Season the chops with salt and pepper, then cook on a moderate barbecue grill for 4 minutes each side, until medium.
3 Meanwhile, toss the zucchini slices in the remaining olive oil and season with salt and pepper. Cook on the barbecue grill for 4 minutes, until just tender, then mix with the vinegar, pine nuts, feta and mint leaves. Serve with the lamb chops, lemon wedges and crusty bread.