Lemony all-aussie lamb kebabs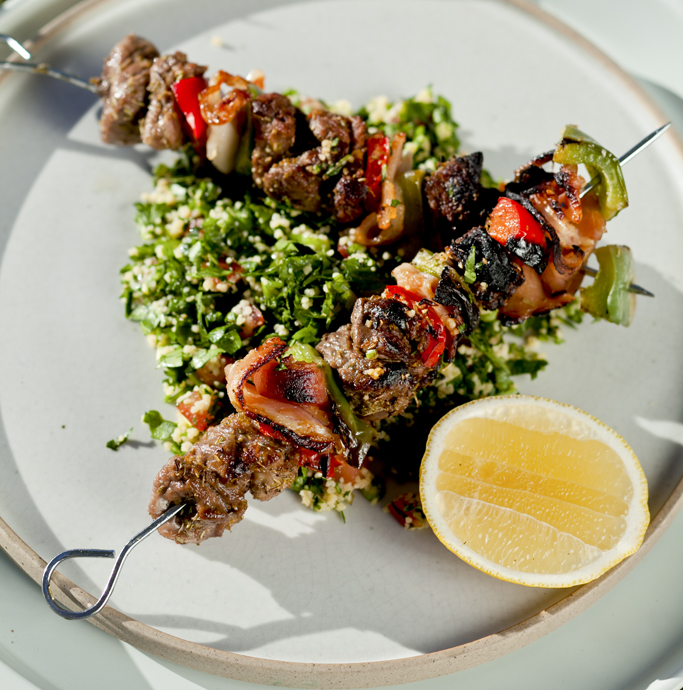 The great thing about rules is that they're made for breaking. I usually say that there are only three things you never add to a marinade: salt, sugar and acids. All three of these things will cook the meat. But for this recipe, we actually want to firm up the meat a little, so it gets that traditional shashlick texture.
Ingredients
800g lamb leg, diced 2cm pieces
finely grated zest and juice of 3 lemons
¼ cup extra virgin olive oil
2 tsp dried rosemary
2 tsp dried thyme
2 tsp caster sugar
salt flakes and freshly-milled black pepper
1 green capsicum, diced in 2cm pieces
1 red capsicum, diced in 2cm pieces
16 button mushrooms
4 rashers bacon, cut into 5cm lengths
tabouleh salad, to serve
Instructions
1 Combine the lamb, zest, juice, oil, dried herbs and caster sugar in a large bowl, then cover and set aside for 30 minutes to marinate.
2 Drain the lamb and reserve the marinade. Thread the lamb pieces onto metal skewers, alternating with capsicum pieces, mushrooms, and folded pieces of bacon.
3 Sprinkle the kebabs with cooking oil spray and cook on a barbecue preheated to moderate, basting with the reserved marinade, for 10 minutes, until well-browned, then serve with tabouleh salad.