Lemon pepper kingfish with tuscan kale and roasted tomato salsa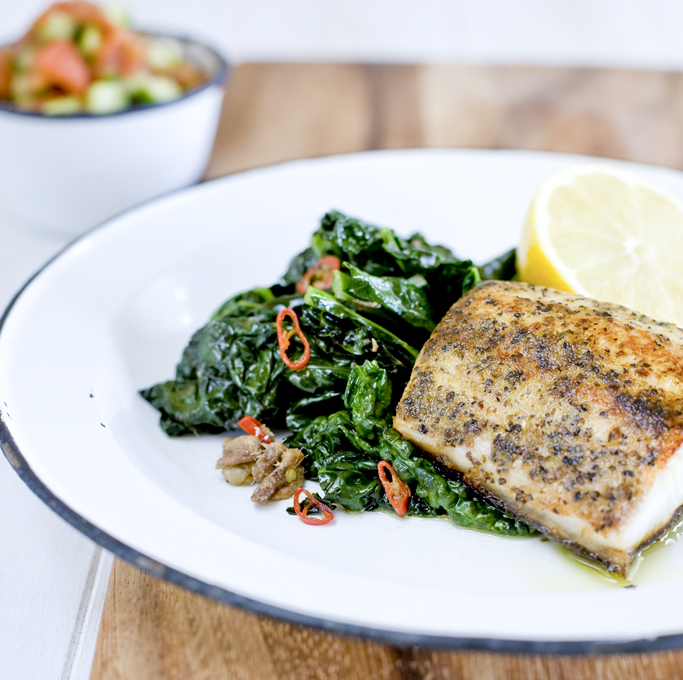 Kingfish is available all year round, and cooks in so many delicious ways. With just a hint of lemon pepper, you can create a tasty and interesting dinner that the whole family loves.
Ingredients
2 large tomatoes
1 Lebanese cucumber, diced
¼ bunch basil, chopped
celery salt and white pepper
4 x 170g kingfish fillets
2 lemons, zested and juiced
2 tsp cracked black pepper
1 tsp dried marjoram
2 Tbsp vegetable oil
2 bunches Tuscan kale (cavalo nero)
2 Tbsp extra virgin olive oil
2 garlic cloves, sliced
2 anchovies, minced
1 red chilli, sliced finely
Instructions
1 Preheat oven to 180°C. Set the tomatoes on a baking tray and roast for 10 minutes until just softened. Combine with the cucumber, basil, celery salt and white pepper then set aside.
2 Season the fish with lemon zest, slat, black pepper and dried marjoram, then drizzle with vegetable oil. Set in a frying pan over  a medium-high heat and sear on all sides, then transfer to the oven and bake for 5 minutes.
3 Sauté the kale in olive oil, garlic, anchovies and chilli for 2 minutes, then season generously with salt and pepper. Drizzle with lemon juice. Serve the fish on a bed of kale, topped with tomato salsa.