Lasagna Meatballs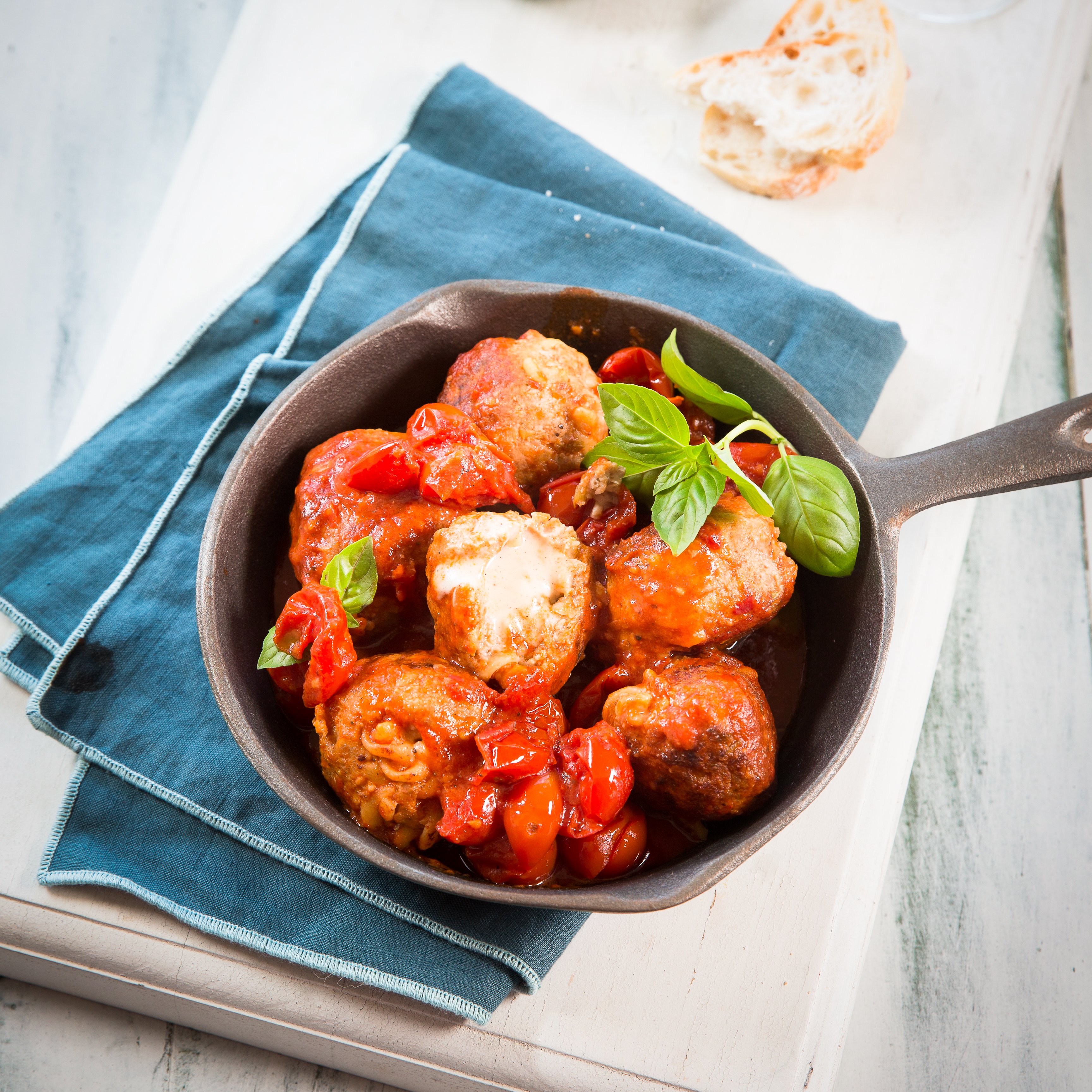 When the argument of what to have for dinner heats up between the meatball gang and the lasagna brigade, help yourself to the best of both worlds, all in the one amazing recipe!
Ingredients
3 Tbsp unsalted butter
1 Tbsp plain flour
½ tsp ground nutmeg
1 cup milk
1 cup grated Gruyere cheese
sea salt flakes and freshly-milled black pepper
½ leek, finely diced
4 cloves garlic, minced
2 tsp dried Italian herbs
600g pork mince
2 eggs
½ cup breadcrumbs
100g dried spiral pasta, cooked according to manufacturer's instructions
2 x 400g cans cherry tomatoes
2 tsp brown sugar
2 tsp red wine vinegar
2 Tbsp extra virgin olive oil
½ bunch basil leaves
crusty bread and shaved Parmesan, to serve
Instructions
1 Combine 1 Tbsp butter with the flour and nutmeg in a small saucepan and cook over a moderate heat until crumbly. Whisk in the milk and simmer until thickened, then stir in the Gruyere cheese and season with salt. Refrigerate until completely firm.
2 Sauté the leek, garlic and dried herbs in the remaining butter in a small saucepan until very soft, about 5 minutes, then transfer to a large bowl to cool. Add the pork mince, eggs and breadcrumbs, season with salt and pepper, then mix very thoroughly. Add the cooked and cooled pasta, then mix to combine.
3 Use two teaspoons to form twenty cherry-sized balled of cheese sauce, arrange on a tray, then freeze until firm. Once solid, divide the meat mixture into twenty, and wrap one around each cheese ball, sealing firmly.
4 Pour the cherry tomatoes, sugar and vinegar into a small saucepan and bring to a boil. Season with salt and pepper, then set aside. Fry the meatballs in olive oil in a large frying pan over a moderate heat for 5 minutes, turning often, until well-browned. Add the tomato sauce, turn the heat to low, then simmer for 5 minutes, until the meat balls are cooked through. Serve with basil leaves, crusty bread and shaved Parmesan.