Lamb and onion massaman curry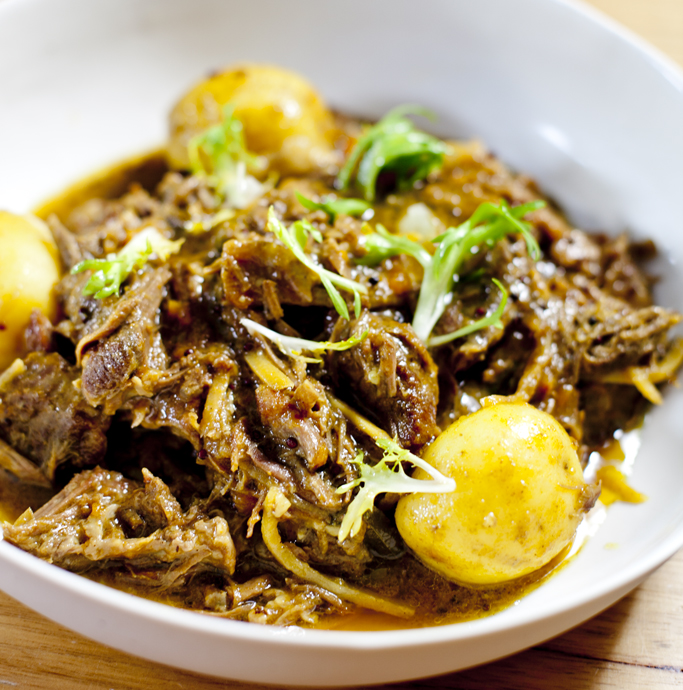 Spiced with turmeric, cardamom, nutmeg and with the zesty zing of lemongrass, this lamb and onion Massaman curry gets it all right!
Ingredients
2 brown onions, finely sliced
2 celery sticks, finely sliced
4 cloves garlic, minced
8 cardamom pods
12 curry leaves
2 Tbsp massaman curry paste*, store-bought or homemade
1L chicken stock
1 Tbsp ground turmeric
400ml coconut cream
12 chat potatoes
yoghurt, mint and coriander leaves, to serve
For the Massaman curry paste
4 cloves
12 cardamom pods
½ tsp ground nutmeg
2 tsp ground turmeric
½ cup desiccated coconut
6 dried long red chillies
6 bay leaves
1 lemongrass stalk, chopped
8 garlic cloves, chopped
5 eschalots, diced
1 bunch coriander, roots only
1 tsp shrimp paste
¼ cup roasted peanuts
½ cup vegetable oil
Instructions
1 Fry the lamb piece sin ghee in a large saucepan over a high heat in batches until all well-browned. Add the onions, celery, garlic, cardamom pods and curry leaves and continue cooking for another 5 minutes, until softened.
2 Mix in the massaman paste and cook, stirring constantly, for 5 minutes, until the mixture begins to stick to the bottom of the saucepan. Pour in the stock, turmeric and coconut, then simmer for 2 hours, until the lamb is tender and the sauce has thickened.
3 Add the potatoes and cook for another 25 minutes, until they are tender, then serve with yoghurt and herbs.
For the Massaman curry paste
Makes 300g
Preparation time: 10 minutes
Cooking time: 5 minutes
1 Preheat oven to 180°C. Toast the spices and coconut for 5 minutes, until aromatic and the cardamom becomes crumbly. Set aside to cool slightly. Soak the dried chillies in 1 cup warm water for 2 minutes, until just softened, then drain and discard the water.
2 Grind the spices in a mortar or spice grinder, then combine with the dry ingredients in a food processor and pulse until coarse. Add the oil in a steady stream while pureeing. Mix until smooth then refrigerate under a thin layer of extra oil and use within 2 weeks.