Kung Pao Chicken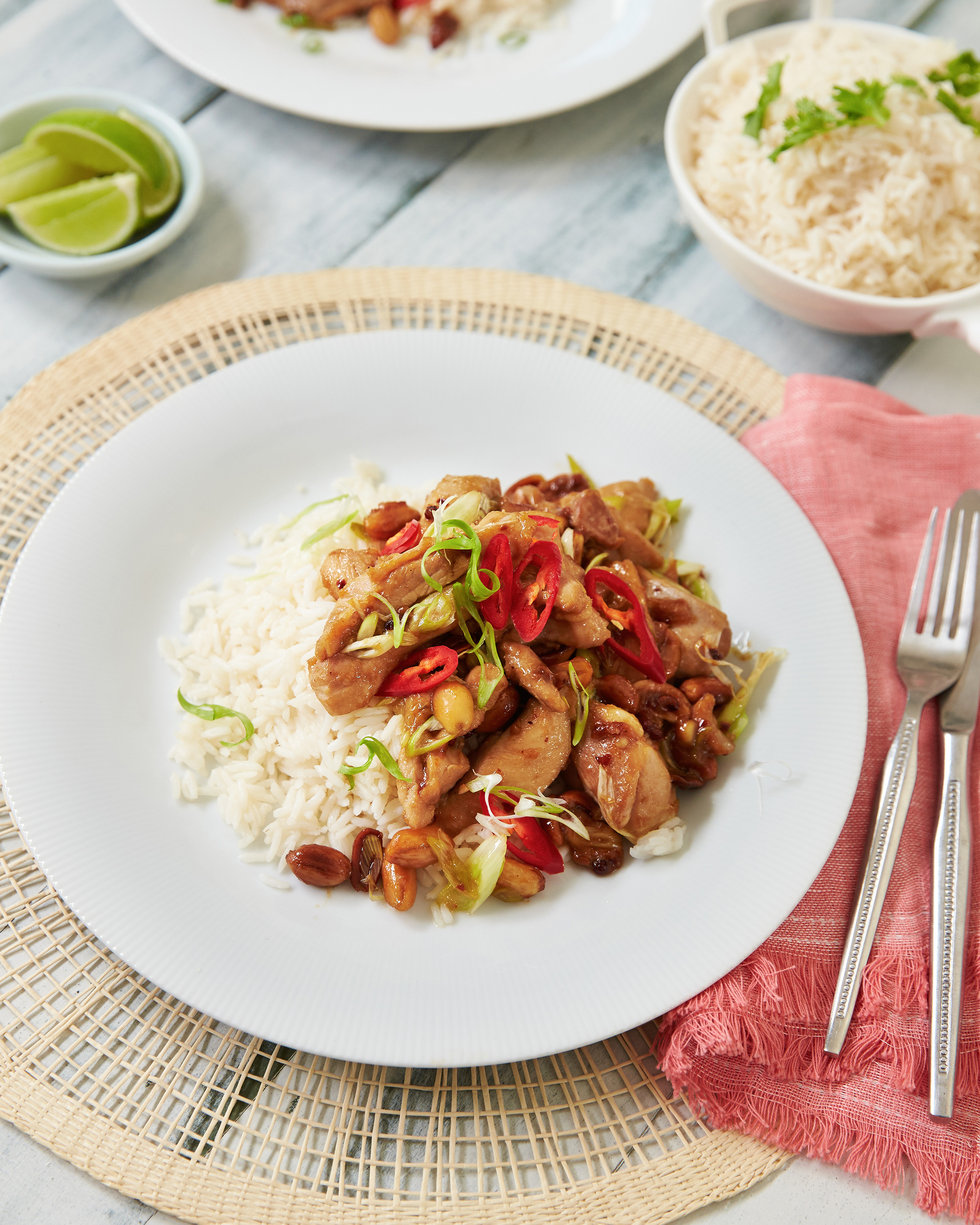 Kung pao chicken was famous throughout China, though most well-known for its very spicy Sichuan version. Chinese migrants to America in the 19th century recreated this famous dish, but found it far too intense for most local palates. And so the chilli level was softened, the chicken pieces were marinated in aromatic sesame, and plenty more garlic was added.
Ingredients
500g chicken thigh fillet, diced
2 Tbsp Shaoshing Chinese cooking wine
3 tsp sesame oil
2 Tbsp soy sauce
1½ Tbsp cornflour
2 Tbsp Chinese black vinegar*
2 tsp caster sugar
¼ cup vegetable oil
1½ cups roasted unsalted peanuts, chopped
3 tsp Szechuan pepper
2 tsp chilli flakes
8 cloves garlic, minced
4 green shallots, finely sliced
steamed rice, lime wedges and chopped chilli, to serve
Instructions
1 Toss the chicken in the wine, sesame oil, half the soy and half the cornflour, then cover and set aside for 30 minutes. Mix the remaining cornflour with the remaining soy, vinegar and sugar.
2 Pour 1 Tbsp oil into a wok over a high heat, then fry the peanuts for 2 minutes, until lightly blackened. Scoop out and set aside. Add another tablespoon of oil, then drain the chicken pieces and fry in small batches for 3 minutes, until just cooked. Set aside.
3 Add the remaining oil and fry the Szechuan pepper, chilli and garlic. Once aromatic, return the chicken and peanuts. Pour the soy and vinegar mixture into the wok, and simmer to thicken. Mix in the shallots, then serve with steamed rice, lime wedges and chopped chilli.