Kumera and coconut fritters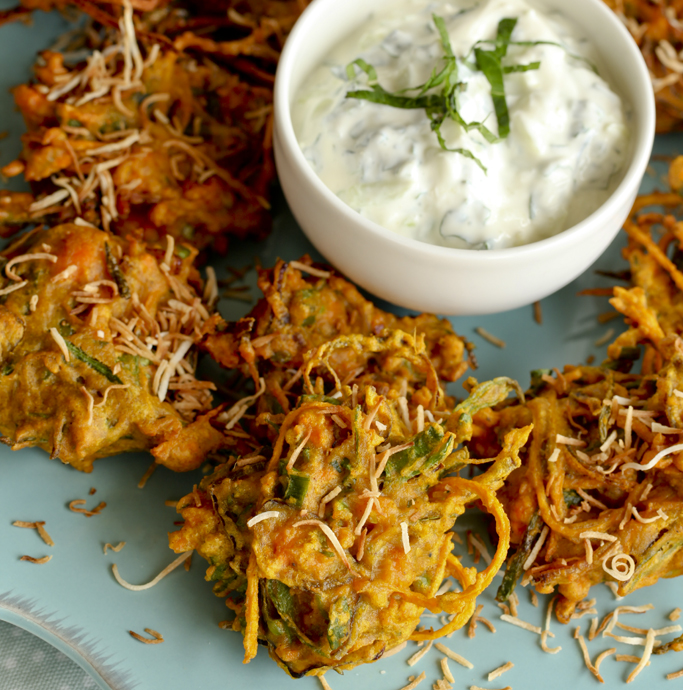 This delicious snacking recipe is based on a traditional Indian bhaji or pakora. The besan flour fries perfectly and is found in most supermarkets (in the health food section). Not only is it tasty, but gluten-free too!
Ingredients
2 cups kumera, finely diced
1 red onion, finely sliced
1 cup snow peas, finely sliced
½ cup shredded coconut
12 fresh curry leaves, chopped
200g chickpea flour (besan)
2 tsp ground turmeric
1 tsp ground cumin
½ tsp chilli powder
2 tsp fine salt
¾ cup water
vegetable oil, for deep frying
½ Lebanese cucumber, peeled, seeded and grated
2 cloves garlic, minced
¼ bunch mint, chopped
300g yoghurt
toasted coconut, to serve
Instructions
1 Boil the kumera in a large saucepan of water for 3 minutes, until tender, then drain. Mix in a large bowl with the onion, snow peas, coconut and curry leaves. In a second bowl, whisk the chickpea flour, spices, salt and water to make a batter then fold this through the vegetables.
2 Place large spoonfuls of the mixture into hot (180°C) vegetable oil and fry for 4 minutes, until well-browned and crisp. Drain on kitchen paper.
3 Meanwhile, combine the cucumber, garlic, mint and yoghurt. Serve the fritters with the yoghurt sauce and toasted coconut.