Krumplislangos (hungarian potato cakes)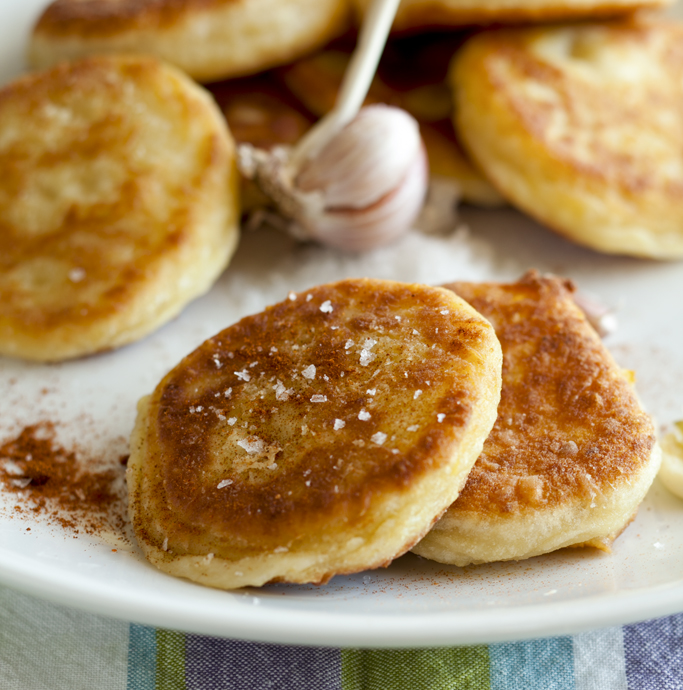 These little Hungarian potato cakes are great to serve as a pre-dinner snack. Don't forget the paprika for a taste of Eastern Europe.
Ingredients
4 medium potatoes, peeled and chopped
1 sachet (7g) dried yeast
½ cup warm milk
1 tsp caster sugar
1¾ cups plain flour
1½ tsp fine salt
lard of vegetable oil for deep frying
1 clove garlic, peeled
salt flakes and paprika, to serve
Instructions
1 Steam the potatoes over a saucepan of simmering water for 25 minutes, until tender, then press through a fine sieve and set aside to cool. Meanwhile, combine the yeast, milk, sugar and 3 Tbsp flour in a small bowl, then set aside for 15 minutes, until foamy and well-risen.
2 Combine the potato, yeast mixture, flour and salt in a large bowl and mix until smooth. Turn out onto a lightly-floured board and knead until smooth. Place in a lightly-oiled bowl and cover with cling film. Set aside to rise for 1 hour, until doubled in size.
3 Roll out on a floured board to 1½ cm thick. Cut into 5cm discs, then cut a cross in each. Cook in hot lard or vegetable oil in a frying pan over a moderate heat for 4 minutes each side, until golden, then drain on kitchen paper. Rub with garlic, then serve sprinkled with salt and paprika.