Heirloom tomato tartine with goat's cheese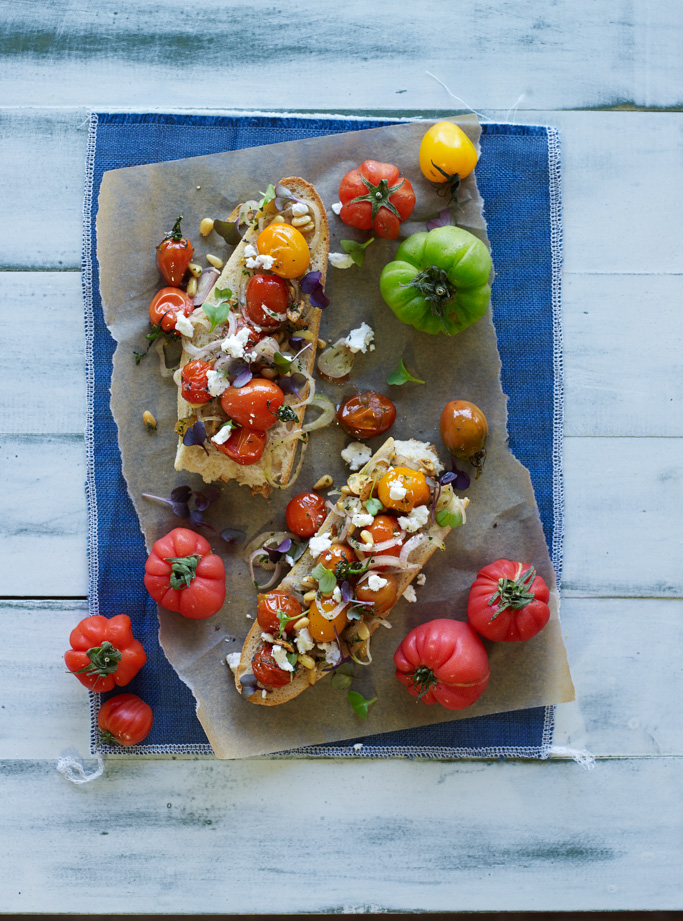 Late summer is the perfect time to love tomatoes. They're sweet and bursting with flavour. If you're lucky enough to have some growing in your yard, this simple recipe makes the very most of them!
Ingredients
2 cloves garlic, finely sliced
4 sprigs thyme leaves
¼ cup extra virgin olive oil
2 cups mixed heirloom baby tomatoes
½ cup baby basil leaves
1 eschalot, finely sliced
1 Tbsp pine nuts, toasted and chopped
salt flakes and freshly-milled black pepper
½ baguette, split and cut into four pieces
2 Tbsp unsalted butter
70g goat's cheese, crumbled
Instructions
1 Fry the garlic and thyme in olive oil in a pan over a moderate heat for 3 minutes, until aromatic. Add the tomatoes and cook for 2 minutes, until the skins begin to blister. Drain the oil, then set aside to cool slightly.
2 Mix in the basil, eschalot and pine nuts, then season with salt and pepper. Meanwhile, toast the baguette pieces until golden and crisp, then spread with butter. Top with the tomato mixture and goats cheese.
Professional Tip: Reserve any leftover oil from the tomatoes for making salad dressing – it's full of flavour and keeps well in the fridge.