Handmade parmesan gnocchi with salsa verde and ricotta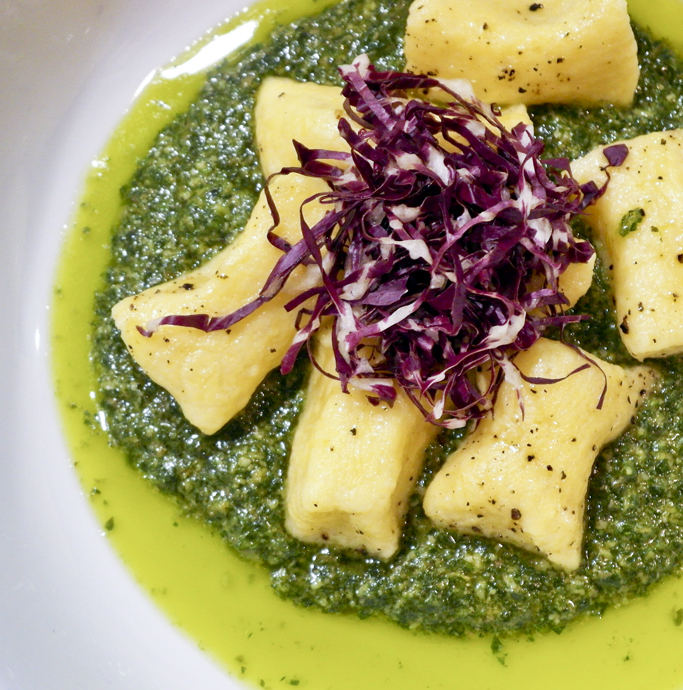 Hand making your gnocchi is worth the extra little bit of effort. You'll be converted after trying this.
Ingredients
2 medium waxy potatoes, peeled and chopped
4 egg yolks
½ tsp ground nutmeg
½ cup grated parmesan cheese
1½ cups 'OO' flour
salt flakes and freshly-milled black pepper
½ cup vegetable oil
1 bunch parsley leaves
1 bunch mint leaves
½ bunch thyme leaves
3 tsp baby capers
4 anchovy fillets
4 cloves garlic, chopped
½ tsp chilli flakes
finely-grated zest and juice of 1 lemon
½ cup extra virgin olive oil
½ cup ricotta cheese, crumbled
shaved parmesan, to garnish
Instructions
1 Steam the potatoes until very tender then press through a ricer or fine sieve. Set aside to cool slightly, then beat in the yolks, nutmeg, cheese and 1 cup flour. Season with salt and pepper, then roll into 1cm-wide sausage shapes using the remaining flour, and cut into 2cm lengths.
2 Boil the gnocchi for 2 minutes, until floating, then scoop out and drizzle with vegetable oil. Once cool, fry in a non-stick pan for 3 minutes, turning often, until lightly browned.
3 Meanwhile, combine the parsley, mint, thyme, capers, anchovies, garlic, chilli, zest, juice and olive oil in a blender and purée until smooth. Season with salt and pepper.
4 Spread the salsa verde on a plate, then arrange the gnocchi and ricotta on top. Garnish with shave parmesan cheese.