Gourmet corn dog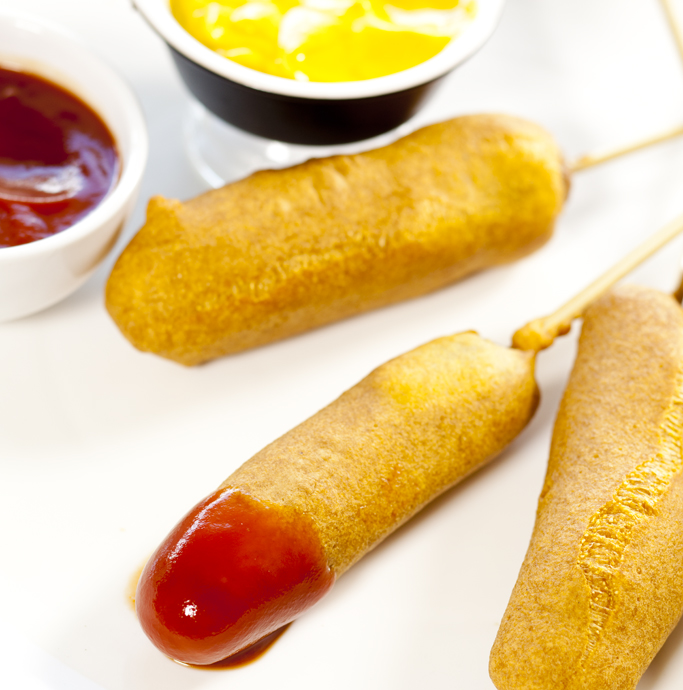 I can't say I was ever a big fan of the country show food vendors. All those wretched carnies with their missing teeth and flaky skin stooped over battered and poorly-maintained bain-maires whose unpredictable temperature was guaranteed to maintain its occupant food precisely in the critical danger zone. That said, the idea of a corn dog is actually pretty tasty….but I'd much rather make my own. Consider it an investment in ongoing bowel health.
Ingredients
1½ cups plain flour
⅔ cup fine polenta
1 Tbsp caster sugar
2 tsp bicarbonate of soda
2 tsp fine salt
2 tsp ground white pepper
1 cup buttermilk
2 eggs
¼ cup vegetable oil
8 premium quality sausages
vegetable oil, for deep-frying
condiments
Instructions
1 Combine 1 cup flour, polenta, sugar, bicarbonate of soda, salt, pepper, buttermilk, eggs and oil in a large bowl and whisk until smooth. Refrigerate for 15 minutes to allow the polenta to soak up some of the liquid.
2 Meanwhile, steam the sausages over a saucepan of simmering water for 6 minutes, until firm, then set aside to cook. Thread onto bamboo sticks or individual disposable chopsticks.
3 Dust the sausages with the remaining flour and dip in the batter. Fry in hot (190°C) vegetable oil for 2 minutes, until crispy, then drain well. Serve with condiments.
COOK'S NOTES: Steaming the sausage first allows you to reduce some of the greasy feel and fat content, while needing less cooking for less fat absorption. Also, a higher oil temperature for frying similarly reduces cook time, giving a crisper batter.