Goan fish curry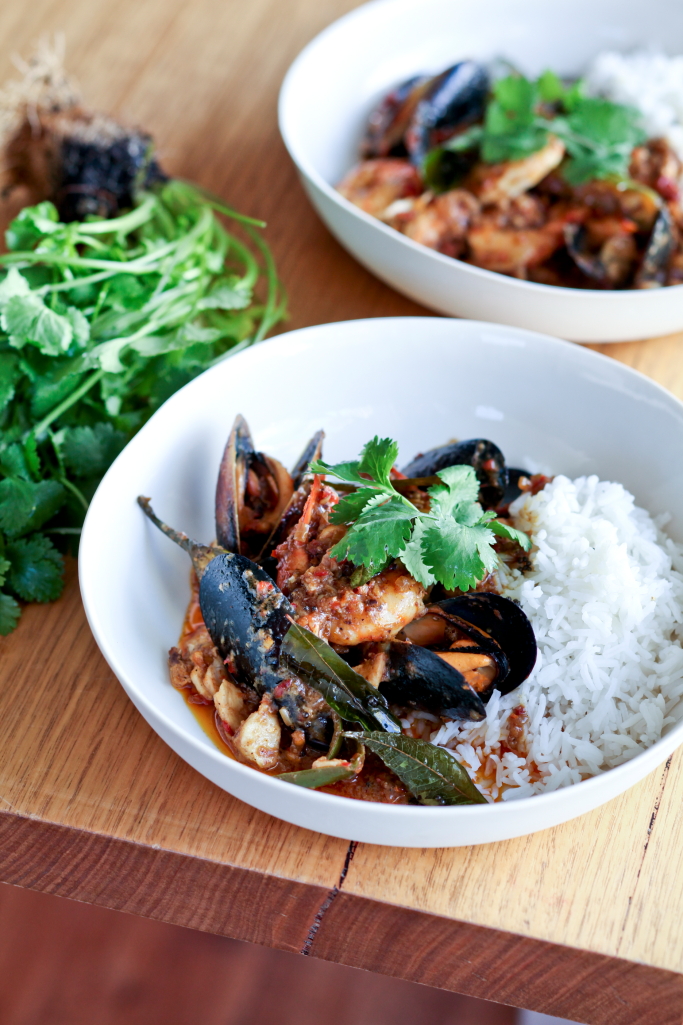 For just a little extra work you can create pure genius. There are two secrets to getting this extraordinary curry just right. Firstly, get your masala (the spice mix) well-toasted and finely ground. Secondly the tadka (fried mustard seeds and curry leaves) will lift and vitalise the dish.
Ingredients
2 tsp coriander seeds
1 tsp cloves
1 tsp cumin seeds
2 star anise
½ cinnamon quill
8 dried red Kashmiri chillies, finely chopped
½ tsp ground turmeric
1 Tbsp brown sugar
1 tsp fine salt
10 cloves garlic, minced
5cm piece ginger, finely grated
1 Tbsp tamarind pulp
¼ cup vegetable oil
1 brown onion, finely diced
2 ripe tomatoes, finely chopped
400ml can coconut cream
2 green chillies, split
500g white fish, cut into 2cm chunks
200g prawns, peeled
12 mussels, de-bearded and scrubbed
½ tsp mustard seeds
10 fresh curry leaves
rice, coriander leaves and lime wedges, to serve
Instructions
1 Set a large frying pan over a moderate heat and toast the spices until aromatic. Grind to a powder in a food processor or pestle and mortar, and then stir in the dried red chillies, turmeric, sugar, salt, garlic, ginger and tamarind. Set aside.
2 Pour 2 Tbsp oil in a large saucepan over a high heat, then sauté the onion for 5 minutes, until softened. Add the masala mix, then cook, stirring, for 2 minutes, until aromatic. Fold in the tomato and cook until almost dry.
3 Mix in the coconut cream and 100ml water, add the green chillies and bring to the boil. Reduce the heat to low, then simmer for 10 minutes until the sauce has thickened slightly. Season with salt and pepper, then stir in the seafood and cook for about 5 more minutes.
4 Meanwhile, heat the remaining oil in a frying pan over a high heat. Add the mustard seeds and curry leaves. Cook for 30 seconds, until they begin to pop, then stir into the curry. Serve with rice, coriander and lime wedges.