Gluten Free White Chocolate-Macadamia Slice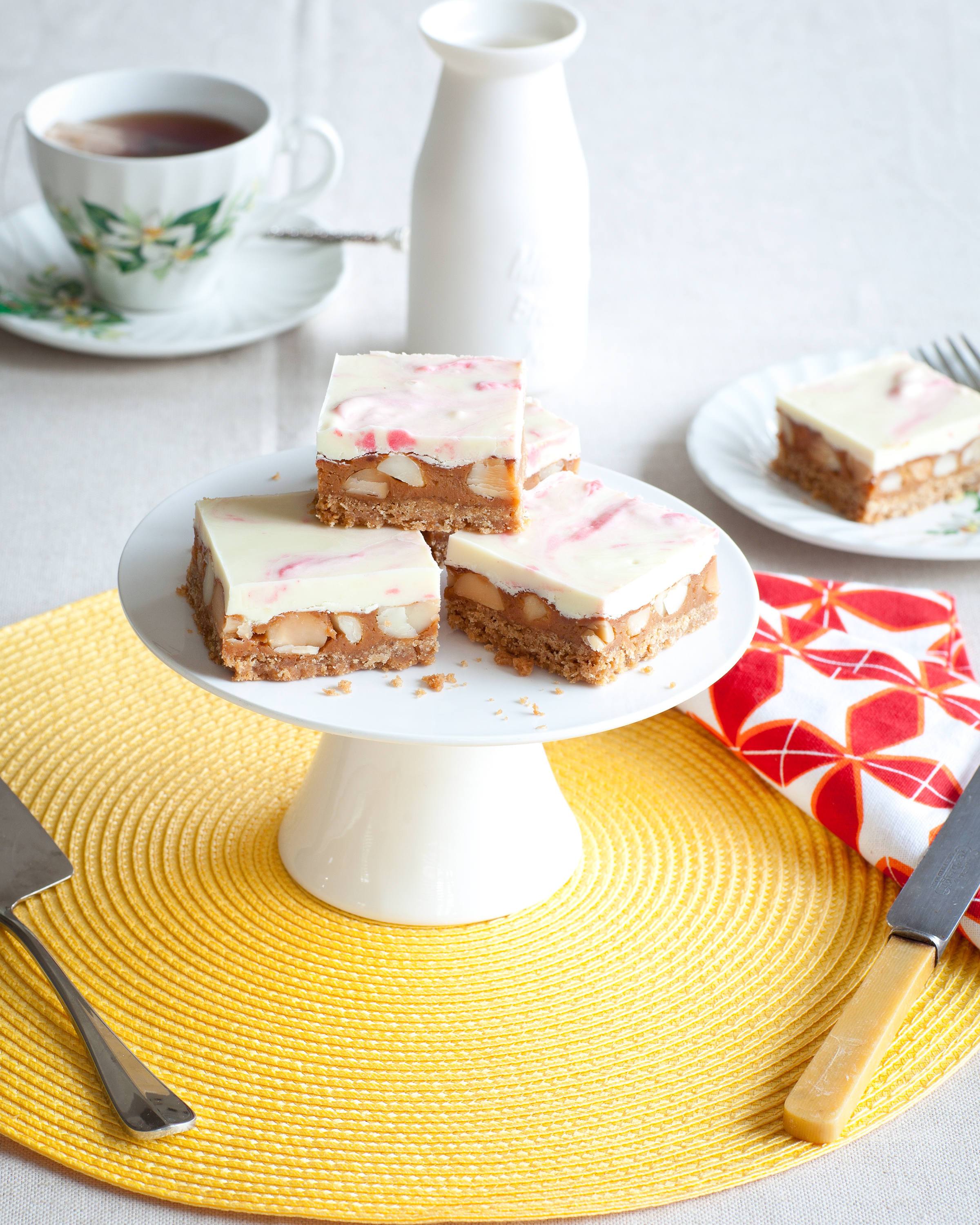 For my taste there is one macadamia recipe that reigns supreme, an adaptation of that bakery classic the caramel slice.
Ingredients
60g gluten-free self-raising flour
60g gluten-free plain flour
200g brown sugar
50g desiccated coconut
150g unsalted butter
395g can sweetened condensed milk
3 Tbsp golden syrup
2 tsp natural vanilla extract
300g macadamias, toasted
500g white chocolate
2 Tbsp vegetable oil
pink food colouring
Instructions
1 Preheat oven to 160°C. Combine the flours, sugar and coconut in a large bowl and mix well. Melt 100g butter and pour in, then squeeze firmly until the mixture just sticks together. Press into the base of a lined 20cm x 30cm slice an and bake for 15 minutes, until light golden and just set. Remove from the oven.
2 Pour the sweetened condensed milk into a medium saucepan with the golden syrup, vanilla and remaining butter. Set over a moderate heat and bring to the boil Simmer for 5 minutes, until beginning to thicken, then mix in the macadamias and spread over the base. Return to the oven for 20 minutes, until browned on top, then set aside to cool completely.
3 Mix the chocolate and oil in a heatproof bowl and set over a saucepan of barely-simmering water. Once melted, pour over the slice, reserving ½ cup. Tint the remaining chocolate with pink food colouring, then place as drops on the white chocolate. Swirl with a knife, then tap the pan several times to flatten. Set aside to cool completely. Slice and serve.