Gluten-free chocolate-pistachio cake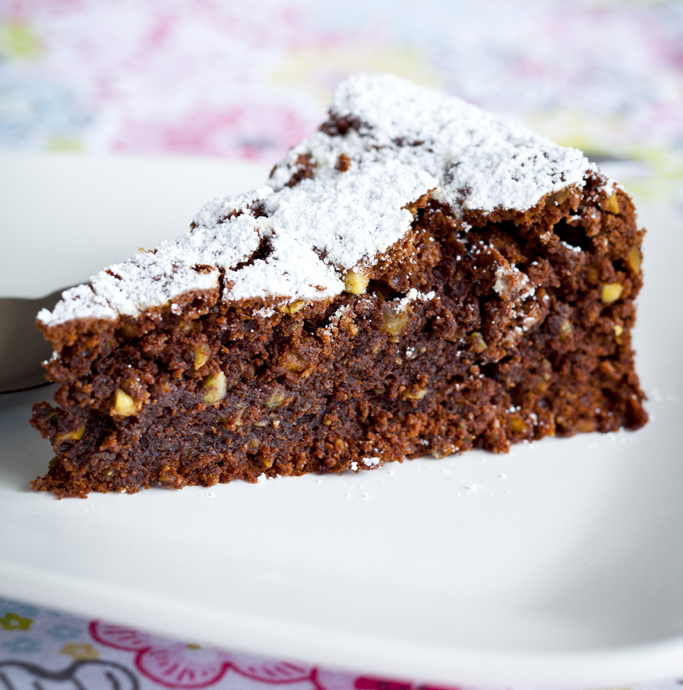 Here's a real treat for afternoon tea. Nutty, chocolatey and purely delicious. And it's gluten free.
Ingredients
165g pistachios
⅓ cup gluten-free plain flour
200g dark chocolate
165g unsalted butter
4 eggs, separated
1 cup caster sugar
1 tsp natural vanilla extract
½ tsp cream of tartar
icing sugar, to serve
Instructions
1 Preheat oven to 180°C. Arrange the nuts on an oven tray and bake for 8 minutes, until crisp and aromatic. Set aside to cool completely, then combine in the bowl of a food processor with the flour and grind until a coarse crumb forms. Set aside.
2 Combine the chocolate and butter in a heatproof bowl and set over a saucepan of barely-simmering water and heat gently, until melted smoothly.
3 Place the egg yolks, half the sugar and the vanilla in the bowl of an electric mixer and beat with the whisk attachment on high speed for 5 minutes until light. Meanwhile, whisk the egg whites and cream of tartar until foamy, then whisk to stiff peaks, adding the remaining sugar 1 Tbsp at a time.
4 Fold the chocolate mixture gently into the yolk mixture, then fold in the meringue and pistachio mixture in alternating amounts. Spoon into a lined 24cm cake tin and bake for 35 minutes, until just set. Cool in the tin, then slice and serve while still warm.