Fish pie with octopus pastry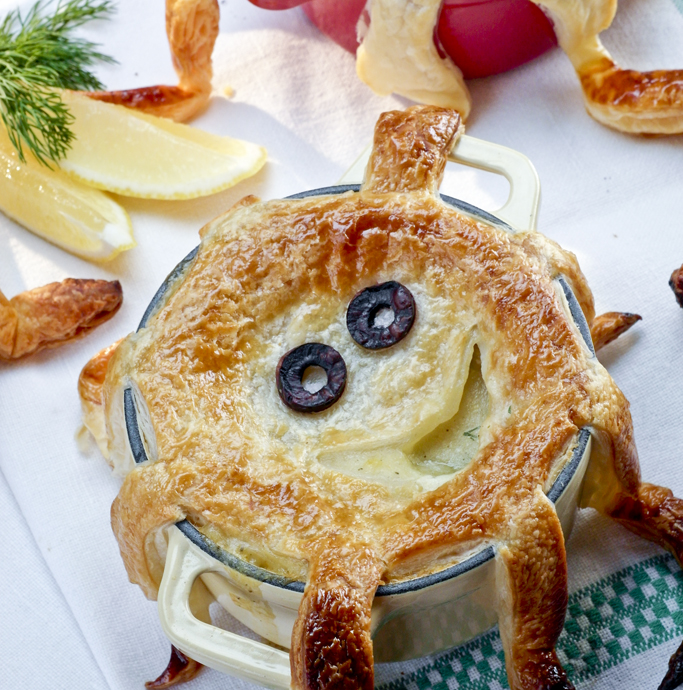 You won't want to eat him at first, looking up at you with those little olive ring eyes. That's before the scent of freshly baked pie overtakes you!
Ingredients
4 white onions, finely sliced
2 cloves garlic, minced
1/4 bunch thyme, finely chopped
finely grated zest of 1 lemon
75g unsalted butter
2 cups fish stock
1/4 cup plain flour
1 cup creamed corn
750g boneless white fish, diced
1 bunch dill, roughly chopped
sea salt flakes and freshly-milled black pepper
2 sheets puff pastry
1 egg, beaten
1 Tbsp sliced black olives
Instructions
1 Preheat oven to 200'C. Set a large saucepan over a moderate heat and sauté the onions, garlic, thyme and lemon zest in half the butter for 15 minutes, until very soft. Pour in 1 cup fish stock and boil for 10 minutes, until thickened. Transfer to a blender and puree until smooth.
2 Return the saucepan to the heat and add the remaining butter and the flour. Cooking, stirring often, for 2 minutes, until the mixture resembles wet sand. Pour in the remaining fish stock and creamed corn, then simmer for 5 minutes, until thick and smooth. Add the fish, dill and onion mixture, then season with salt and pepper.
3 Spoon the fish mixture into four 2-cup individual pie dishes or ramekins. Cut four octopus shapes out of the puff pastry and arrange on top. Brush with egg and decorate with olives for eyes. Bake for 25 minutes, until the pastry is golden and crisp.